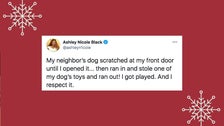 Many of us may not feel like dachshund through the snow this Christmas — and we get it.
But if you're feline less festive this holiday season, let us offer you the internet equivalent of a big pile of catnip: hilarious tweets about cats and dogs.
Each week at HuffPost, we scour Twitter to find the funniest posts about our favorite furballs being complete goofballs. And, yes, they are sure to make you howl.
So shoo your kitty off your keyboard and enjoy some very good tweets. And if you want some more, no need to beg. Check out last week's batch right here.
Meowy Christmas, everyone!
My dog understands a lot of words yet I understand no barks. I'm starting to worry he may be smarter than me.

— CaptainSauce (@TheCaptainSauce) December 19, 2020
My neighbor's dog scratched at my front door until I opened it… then ran in and stole one of my dog's toys and ran out! I got played. And I respect it.

— Ashley Nicole Black (@ashleyn1cole) December 21, 2020
My dog has a turtleneck sweater and I can't remember if at one point I hated people like me but pretty sure I did.

— Troy Johnson (@_troyjohnson) December 20, 2020
I used to get so mad when my parents accidentally called me my sister's name but I've watched this puppy for 24 hours and have called it my parent's dog's name, my bf's name, my name, and just straight up random words that aren't even names

— Jessica Smetana (@jessica_smetana) December 20, 2020
When I'm getting my shoes on to take Dog for a walk, he likes to stand very close to me just to make sure I don't forget that he really wants to go out. pic.twitter.com/DLNgsAb3rP

— Tom Farr (@uracontra_) December 20, 2020
Took the dogs for a walk. He just stops and pees on my shoe.

— jamie (@gnuman1979) December 20, 2020
My dogs are in the car with me and they're judging everyone we drive past so hard.

— Christmas audrey 🦌🌲 (@audreyy_kaye) December 21, 2020
This article is auto-generated by Algorithm Source: www.huffpost.com