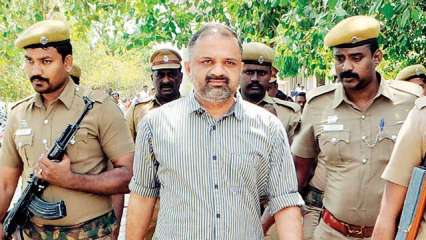 The release of Rajiv Gandhi assassination case convict Perarivalan has come to the fore in Tamil Nadu, again. Only that, this time it coincides with many important events – the Chennai visit of Home Minister Amit Shah, Perarivalan's case coming up in the Supreme Court on Monday, the impending Assembly Polls in Tamil Nadu and much more. 
Although Perarivalan was convicted in 1991 under the grounds of having provided two 9-volt batteries which were used in the bomb that killed Rajiv Gandhi, it has been established later that he merely procured the batteries, without knowing about the conspiracy or what the batteries would be used for. He has been languishing in prison for over 29 years and there have been many voices demanding his release. 
While it has been routine for political parties in Tamil Nadu to bat for the release of all seven convicts in the Rajiv Gandhi Assassination case, Perarivalan's cause is now seeing renewed vigor on social media and members of the film fraternity too are voicing out their support. 
Vijay Sethupathi, Prakash Raj, Pa.Ranjith, P.C. Sreeram, Arya, Karthik Subburaj, Parthiban, G.V. Prakash Kumar, Vijay Antony  etc. were the prominent names from the film industry who expressed solidarity with Perarivalan's family and sought his release. 
"It is injustice to prevent his release for political reasons, despite the Courts having cleared the way #ReleasePerarivalan" reads Director Pa.Ranjith's tweet in Tamil. 
Actor Arya had tweeted that it was not just Perarivalan who was suffering incarceration for over quarter a century but his mother was also sharing equal amount of pain and suffering.  
"JUSTICE DELAYED IS JUSTICE DENIED.. If we had post conviction exoneration laws, perarivalan would have been absolved legally after this officer's interview. Sadly, we still rely on the existing laws for his release" Prakash raj had tweeted, with a clip of Former CBI investigating officer Thyagarajan. 
Political analyst and senior journalist Dr. Sumanth C Raman maintained that the mistake of all those asking for release of 7 convicts in Rajiv Gandhi Assassination case, is treating all 7 convicts as one group. "They could have got Perarivalan released much earlier if they wished to by asking for his case to be treated separately from the others. Instead they clubbed all together" he added.
Enumerating the challenges in getting all 7 convicts released, he had earlier stated that 3 of them were not Indian citizens and whether they would be repatriated to their home country – Sri Lanka (if and when released).
Recently, Arputhammal, the septuagenarian mother of Perarivalan, had made an appeal to the Chief Minister of Tamil Nadu, seeking her son's immediate release. In a video message, she requests that the Chief Minister pays personal attention to the case and ensures that Perarivalan doesn't go back to jail. Perarivalan (a) Arivu is out on parole on medical grounds since October 9th and the Madras High Court agreed to extend his parole by two weeks considering his health issues. 
In her appeal, Arputhammal speaks about her 30 year battle to get her son released and is seen referring to the error of the CBI in recording Arivu's confession, during the course of investigation. In 2017, CBI officer Thiyagarajan had informed the Supreme Court about an error he had made while writing down Perarivalan's statement. 
Arputhammal adds that her son had languished in jail for 30 years and despite her endless battle for his release, he lost his precious years in prison. "How long are we going to be alive…? we want our son during our final years… Please ensure that my son doesn't go back to jail, Chief Minister" she is seen saying. 
In recent weeks, Ministers in Tamil Nadu have expressed hope and spoken of the possibilities regarding the release of seven convicts in the Rajiv Gandhi assassination case.  While this can be seen as comments that are coming close on the heels of Assembly polls due in 2021, there are also some indications that the Ministers' hopes on Governor Banwarilal Purohit may bear fruit. 
Interestingly, these statements had come shortly after Tamil Nadu Governor Banwarilal Purohit visited Delhi to meet the Prime Minister, Home Minister, MoS Prime Minister's Office and the Vice President of India to discuss what the Governor's office referred to as, "important issues related to Tamil Nadu".
On November 3rd, a Supreme Court bench expressed unhappiness over the fact that the recommendation for the release of Rajiv Gandhi convicts sent to the Governor by the State government was pending for over two years. 
Earlier, it was informed that the reason behind the delay from the Governor's end was owing to the probe of the Multi Disciplinary Monitoring Agency (MDMA) which is looking into the larger conspiracy behind the Rajiv Gandhi Assassination case. However, the Court had held that the MDMA probe should not have any impact on the Governor's decision to pardon the convicts.
Seven people including Perarivalan were convicted by the special TADA court for their role in the assassination of former Indian Prime Minister Rajiv Gandhi on May 21st by an LTTE (Liberation Tigers of Tamil Eelam) suicide bomber during an election rally in Sriperumbudur, in the outskirts of Chennai. 
This article is auto-generated by Algorithm Source: www.dnaindia.com