Former Miss India, Ruhi Singh, who had made her stunning Bollywood debut with Madhur Bhandarkar's Calendar Girls, will now be seen playing a fearless cop named Meera in Ekta Kapoor's action thriller webseries Bang Baang opposite TikTok star Faisal Shaikh aka Mr. Faizu. Hailing from Jaipur, Ruhi has made it on her own in the modelling and Bollywood industry. She is by far one of the best bikini bods in the country. She has been majorly into fitness, cooking, beauty cheats during the lockdown and working on her upcoming projects. Also Read – Bang Baang teaser: Meet BHIKARIYON ka Hrithik Roshan aur Katrina Kaif aka TikTok star Mr. Faisu and Ruhi Singh
In an exclusive conversation with Bollywood Life, Ruhi spoke at length about Bang Baang, breaking up from her glamourous avatar, how she thrives to become a better person and what lessons she has learnt while working in the industry so far. Also Read – Ruhi Singh makes heads turn in latest bikini pics
Congratulations on the release of Bang Baang. Tell us what's going through your mind right now. Also Read – Bigg Boss: 'The idea of being attacked by unknown people scares me,' says Ruhi Singh [Exclusive]
I am pretty excited. Actually I have been watching Bang Baang since the night it was released online. A bit nervous as well because the show has been really talked about and fans are going crazy on social media. It's a really good feeling. Also, seeing myself in a cop avatar was pretty cool because I have loved action always and I always wanted to play an action hero. So this web series gave me a platform to showcase my talent and martial arts skills that I have been trained in. So yeah, it feels good.
Would you call yourself the next action star?
I just hope people like my action. And I would totally love to do more action oriented films and web series. And if people are calling me the next action star, then I would be so happy and totally embrace that.
Was it a conscious decision to take up an action packed role to shed your glamourous avatar?
Not just this role, but I also have other releases coming up for which I have taken all conscious decisions in order to do powerful and stronger characters where I can showcase my acting skills. Because as an artist, it is very important and crucial to get that kind of work. And it is also difficult for people to accept those who come from a modelling or pageant background, in anything other than glamour. The difficult part for me was to convince people that I have the potential to do so much, so give me the chance. So now that I have them, I am very grateful to god.
What kind of roles you were offered after your debut film?
When I made my Bollywood debut with Calendar Girls, I was only getting glamourous roles. And I wasn't very happy with it. There was not much of a difference for me be it in the script or the plot. I wanted to do powerful roles which will make an impact. And that's why I am here. So I decided that whatever I do next, it has to be a kickass character or I will rather not do it.
Did you feel you were getting typecast for coming from a modelling background?
I think it's very easy for people to put women in a bracket. Even in the industry, you don't see women doing a lot of action. They are there to add to that glam factor. But here, in Bang Baang, I am super proud because I am doing as much action as my hero. There were no separate action sequences, especially designed for me. And having a producer like Ekta Kapoor and director Shraddha Pasi Jairath, it was so empowering that we could do it better.
How did you bag this role?
I was asked for a look test by the film's unit as they wanted to see if I fit into it. And then I was selected. There were no multiple auditions but then I had heard that they had done look test of loads of girls, approximately 1500, for the role. So I feel honoured to be the chosen one.
How was your experience working with Ekta Kapoor?
It was fantastic. And I think it is high time we have more female superheroes. I think it will start a new era with Bang Baang because of the kind of work that I have done. And Ekta Kapoor is such a powerful woman, she is an idol to lots of girls who look up to her. Since we were shooting during the Covid-19 times, we used to speak in the beginning on the Zoom calls. And she was there to guide us. She's a fantastic person and I really look up to her.
Did you do modelling to eventually become an actor?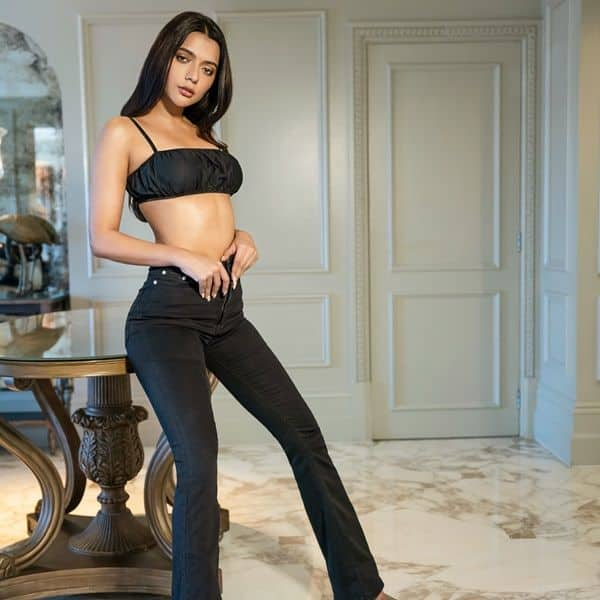 When I was a child, I actually had so many dreams. My parents gave me the freedom to choose my path, both career and life. Being a kid, at one point, I wanted to become a pilot, an astronaut, I wanted to go to IIT and there so many different plans. And I am so glad that acting worked out. But I used to participate in all extracurricular activities, always on stage, under the spotlight. So I knew maybe I would do something in showbiz. I think life is very short and if you can dream it, you can do it. Whatever that makes you happy, should be your career.
Are you always sure of what you need to do or do you just go with the flow?
Firstly, my motto in life has always been never to give up and secondly, I do not think too much. So all I do is work on myself. I am my own product. It can only become better by my own hardwork. So I train myself in different skills, I have done various acting classes with very respected coaches. I can sing, I can dance, people ask me how do you do so much, but I actually do all of this so that I can be more equipped for the roles in the future.
Bollywood had a Bang Bang earlier with Hrithik and Katrina. What would be your reaction if people draw a comparison?
It's always nice to be compared to achievers and super talented people. It feels good.
So far, you have worked with newcomers. Tell us who is on your wishlist in terms of actors and directors?
I would like to work with a director like Sreeram Raghavan, Sanjay Leela Bhansali, Imtiaz Ali and so on. My list is very long (chuckles). All of them have done fantastic work. They have their own spoon of cinema. And I would love to learn from them. When it comes to actors, I am a super Salman Khan fan, so yeah, him including Aamir Khan, Shah Rukh Khan and even Akshay Kumar.
Are you making any efforts to reach there?
What I am doing honestly is that I just keep on working and making most of the opportunities that are given to me. I am not from the industry and nobody from my family is from the glamour world. It's all pretty new to me. So I am trying to find my own way. I don't have any godfather or connection whatsoever. So basically, I am one woman army.
Since you come from a non-filmy background, what challenges have you faced in your journey so far?
My first director Madhur Bhandarkar once told me, 'Every Friday, your friends change in this industry' which I feel is pretty true. My journey has been pretty interesting because I have learnt so much about myself, about people, there were lots of ups and downs. Bollywood just makes you a very strong person because you are getting judged by people all the time, be it in auditions or my performances. But also I love what I do. I am having a really good time. Acting is something that really motivates me. I really want to do fulfilling roles that will satisfy me as an artist.
How has been your experience with people who work behind the camera?
Every industry and the whole world has all kinds of people, good ones and bad ones. It depends on who you are focusing on. I have met a lot of strange people in the industry but at the same time, I have met some wonderful people as well.
This article is auto-generated by Algorithm Source: www.bollywoodlife.com