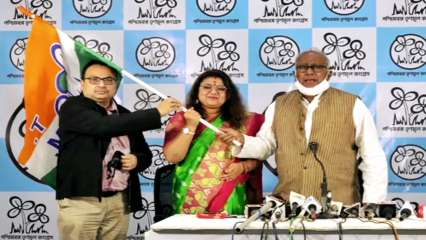 The TMC-BJP war in Bengal has now reached the household of BJP MP from Bankura district Saumitra Khan, who said he would send a divorce notice to his wife Sujata Mondal Khan for switching over to the Trinamool Congress, terming her move as a 'big mistake'.
Expressing her displeasure over the induction of "opportunist" leaders from other parties into the BJP, Sujata joined the ruling Trinamool Congress on Monday in presence of veteran Trinamool Congress Lok Sabha MP Saugata Roy and the party's spokesperson Kunal Ghosh.
"I started working with the BJP when no one could imagine its rise from two Lok Sabha seats to 18 (in the last general elections in 2019). I struggled for the party so much but I did not get my due respect," Sujata rued.
"Those who sent people to ransack our house have now joined the BJP. I did everything for the party, braving life threats. But the BJP has not honoured that. Instead, they are welcoming people from other parties," she told media persons.
Sujata said that one day Saumitra Khan would also realise it and come back to Trinamool Congress. She also alleged that BJP has not given her respect and dignity that she deserves in the party.
"BJP can not provide dignity to worthy people. people are joining BJP for obtaining the lucrative posts of chief minister and deputy chief minister…I am joining TMC as the party will give me respect and protection," she said.
Meanwhile, Saumitra Khan said that he would send a divorce notice to her. Khan broke down in tears at the press conference and said: "They cut your power supply, they gave you life threats. Your job was taken away by Mamata Banerjee or Abhishek Banerjee. At that point, I kept my promise and transferred 50 per cent of my salary to your account every month so that you don't have to ask for it. Now you have joined hands with those who had harmed you in past."
Saumitra is currently the president of Bharatiya Janata Yuva Morcha (BJYM) and Member of Parliament (MP) from Bishnupur Lok Sabha constituency in West Bengal.
This development comes days after TMC heavyweight leader Suvendu Adhikari, along with several MLAs and MPs, joined the BJP during Union Home Minister Amit Shah's rally at Midnapore College Ground on Saturday. At least 10 MLAs from different parties — Tapasi Mondal, Ashoke Dinda, Sudip Mukherjee, Saikat Panja, Shilbhadra Dutta, Dipali Biswas, Sukra Munda, Shyamapda Mukherjee, Biswajit Kundu and Banasri Maity — joined the BJP. Besides, TMC MP from Purba Bardhaman, Sunil Kumar Mondal, and former MP Dasarath Tirkey also switched over to the BJP during Shah's tour. 
This article is auto-generated by Algorithm Source: www.dnaindia.com