It takes you meticulous attention to detail when cutting the long, large-size video files. That is a time-consuming job to do. Luckily, the professional video splitter programs will save your time to divide the videos into many equal, smaller parts and save them separately. What video splitter can split videos while remaining the original video and audio quality?
In this article, we are going to share 8 video splitters for Windows and Mac for you to compare them side to side.
1. MiniTool MovieMaker
The free Windows video editing tool MiniTool MovieMaker can work as HD video splitter software. Besides, it comes with many other useful features for you to craft professional-looking videos.
Split a video into many parts, trim the video to cut out the unwanted parts, and merge multiple clips into one file.
The default video templates are readily available for you to choose from..
Accelerate the video, make a slow-motion video, or reverse the video with simple mouse clicks.
It has a built-in library of background music.
Lots of transitions, filter effects, color correction settings, and customizable animated texts.
Free convert your videos to MP4 or other formats, change the video resolution and file size.
How Can You Use MiniTool MovieMaker to Split the Video?
Step1. Install MiniTool free video splitter.
Download the free edition of MiniTool MovieMaker on your Windows 10/8/7 computer and run it.
Step 2. Import the video files now.
The main UI of MiniTool video splitter software consists of three parts, media library, preview window, and the timeline included. To import some video files that you want to split, click the 'Import Media Files' button, when that is done, you can find the imported files in My Album, afterward, drag and drop them to the timeline.
Step 3. Choose either way to split the video.
1). Split your video file in the video track
Play the video file, stop it where you want to split, now you will see a scissor icon on the timeline, when it's done, please tap that scissor icon. The video will be split into 2 pieces immediately.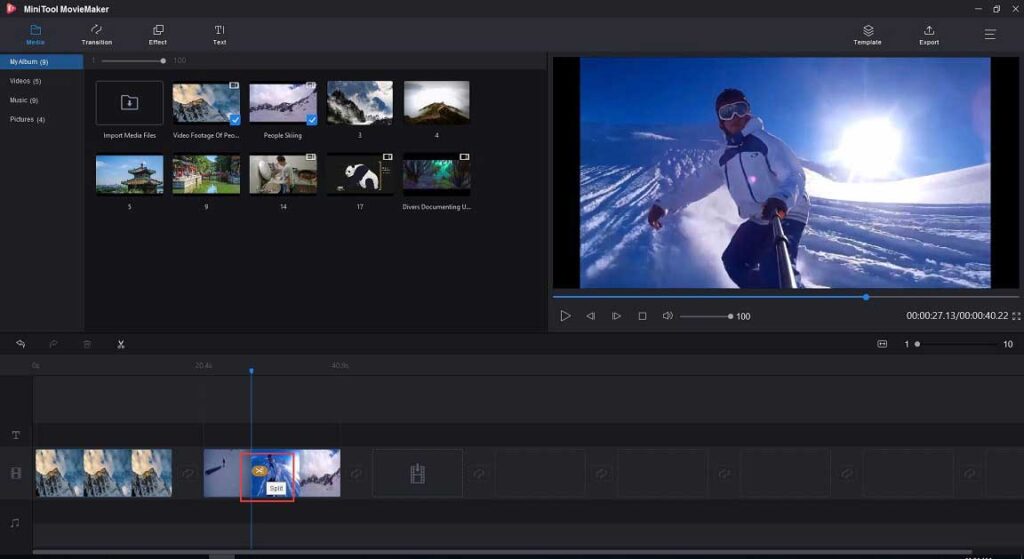 2). Split your video accurately
If you wish to split the video file frame by frame, please select that video file on the timeline → Click the scissor icon on the toolbar→ Choose Full Split to open the SPLIT/TRIM window. And then, please play the video and stop it where you want to split → click the scissors icon, confirm the operation by clicking OK.
Step 4. Save the video files separately.
This is the last step, click the Export button at the top, choose a folder to save the new video clips separately.
PROS
This video splitter is free to use and has no watermark.
Advanced users could split videos with frame accuracy.
Use the program to split both video files and audio.
Export the videos in many formats, such as MKV, TS, WMV, MP4, AVI, MPEG-2, MOV, and WEBM.
Cut out the unwanted parts of the video quickly.
The video templates are helpful for people to edit videos easily and productively.
CONS
The software is only available for free download on Windows computers.
2. Windows Movie Maker
Windows Movie Maker from Microsoft company can help you edit videos, and then directly post them on video-sharing sites such as YouTube, Vimeo, Facebook, Flickr, and so on.
How to Use Microsoft Movie Maker Step by Step to Split Video?
Step 1. Download this Windows Movie Maker on your PC ( Windows 10 is not supported).
Step 2. Click the 'Add videos and photos' button to import a video or multiple video files to this free video splitter program.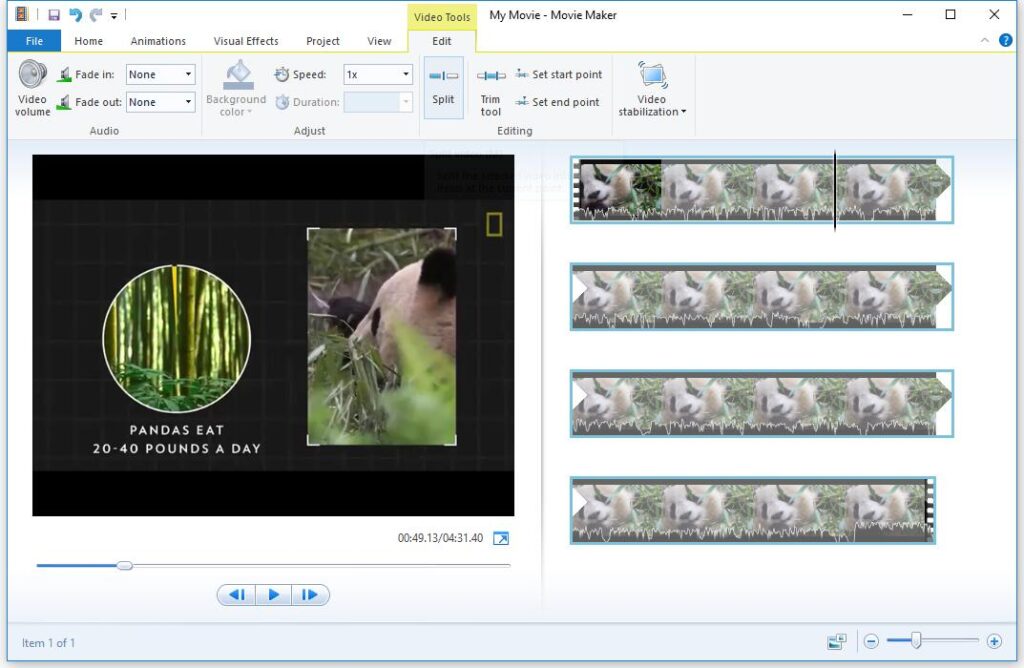 Step 3. Drag the dark Vertical Line to the correct position in the clip -> click Video Tools-> Edit -> Split. Confirm, and save the smaller video clips now.
PROS
The controls are easy to understand to people who are new to video editing.
The automatic preview feature is very useful
CONS
This video splitter is not supported for Windows 10.
Windows Movie Maker crashes and freezes for unknown reasons.
It is not suitable the users who want to edit complex, long videos.
3. Windows Photos
If you are using Windows 10, you could try the hidden video editor called Photos app to split/trim/cut videos.
How Shall We Split a Video Using Windows 10 Photos App?
Step 1. Launch the app → click'New video' → click the + Add icon to import a video file, afterward, drag and drop that file to the timeline.
Step 2. Select the video file, and then click the "Split" button, which is under the preview window.
Step 3. Move the blue icon to the position where you want the video to be cut (see the image below) -> click Done, then click Finish video to save the new videos.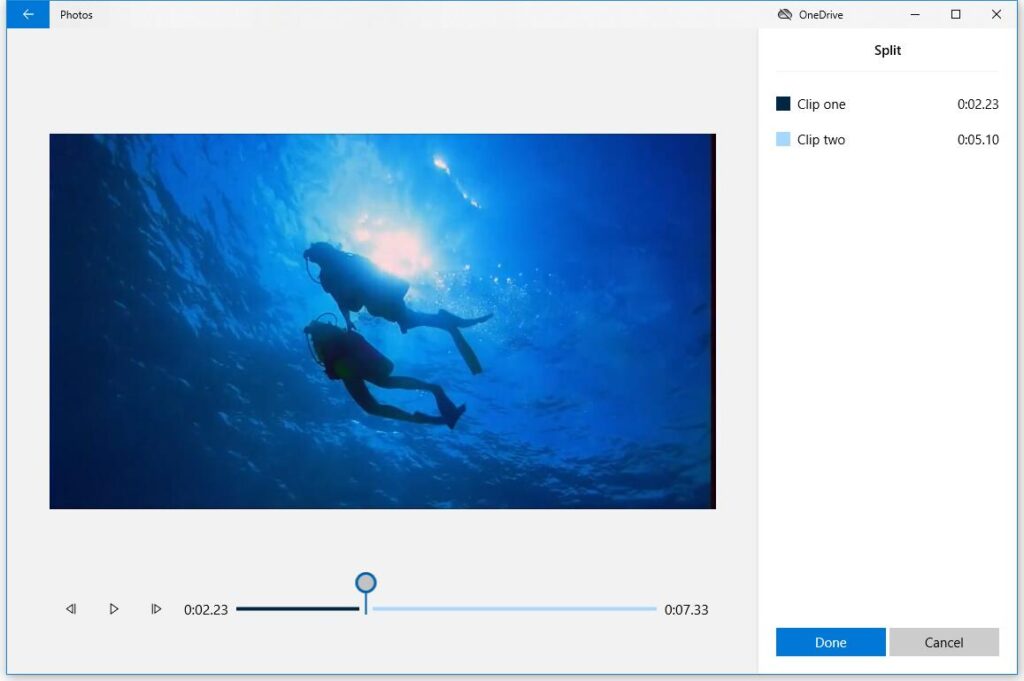 PROS
The Windows app has a straightforward user interface.
There are many different video editing effects.
CONS
It is not a good choice for advanced users who have experience using professional editing tools.
You cannot use this app to add transitions to your videos.
The Photos app takes up huge amounts of resources on the computer.
4. VLC
Some people do not know that VLC media player is capable of splitting a long video into several smaller parts.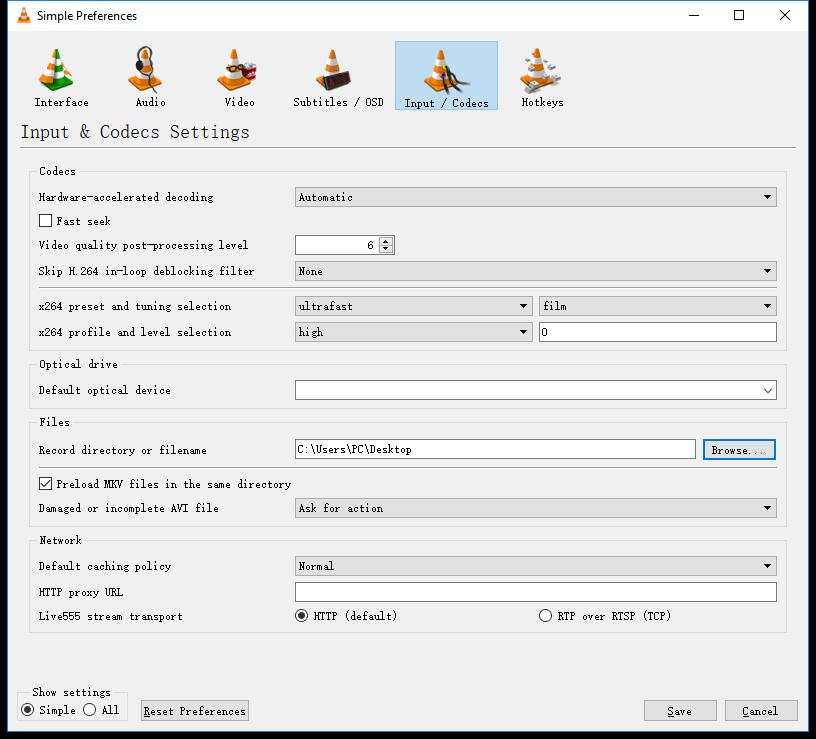 PROS
Easily cut/split the large videos and audio files.
VLC can work with many kinds of multimedia files, so you do not need to download additional codecs.
CONS
It does not offer the mode of precision video splitting.
You need to wait for a comparatively longer time till the video splitting process finishes. It does not include many video editing tools.
5. MP4Tools
MP4Tools is a free, cross-platform software to do simple video editing because it only has two features – MP4Splittes and MP4Joiner.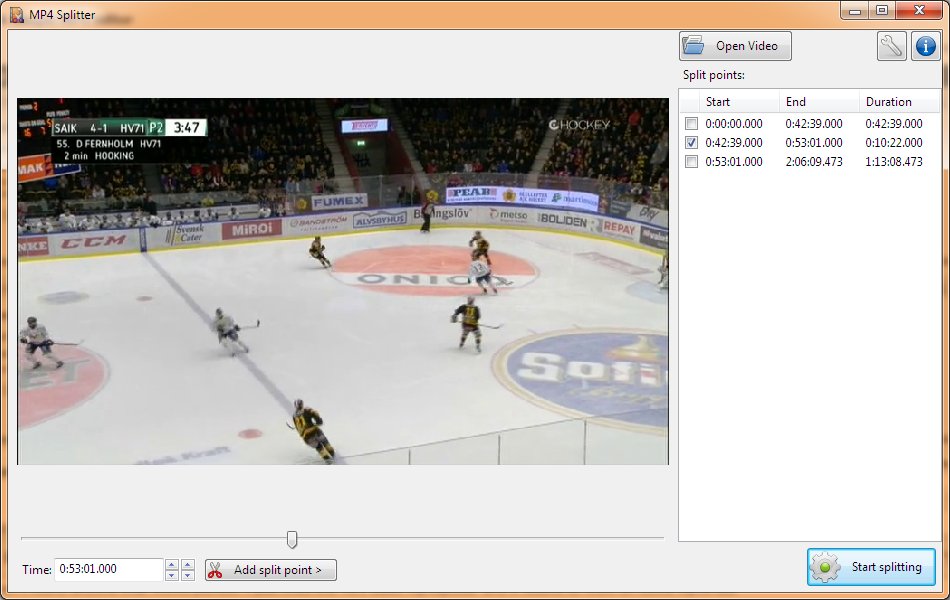 PROS
Split video into several smaller files, and merge more than 2 videos without re-encoding.
Do batch conversions to save your time of video processing.
The video quality keeps good.
CONS
MP4Tools can only support the MP4 video files.
6. OpenShot
Open Shot is compatible with Windows, Linux, and Mac OS X. You can use this video editor to split videos into smaller files or join many videos together. After you finish the video editing and click export, you won't find any watermark is left on the final video.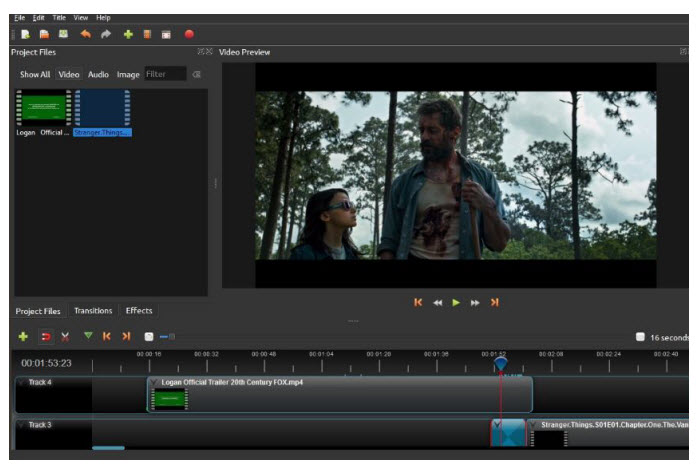 PROS
Various types of video files and audio are supported.
The video effects and animation framework are useful for the users to make eye-catching videos.
CONS
Openshot runs somewhat slowly when you apply video effects to the videos.
You need to install additional plug-ins prior to using the 3D animated titles and certain visual effects.
7. Free Video Cutter
With Free Video Cutter, you don't need to have good video editing skills to divide the videos into smaller clips. In regard to the file compatibility, it supports AVI, MKV, FLV, MOV, Divx, Xvid, and MP4 videos.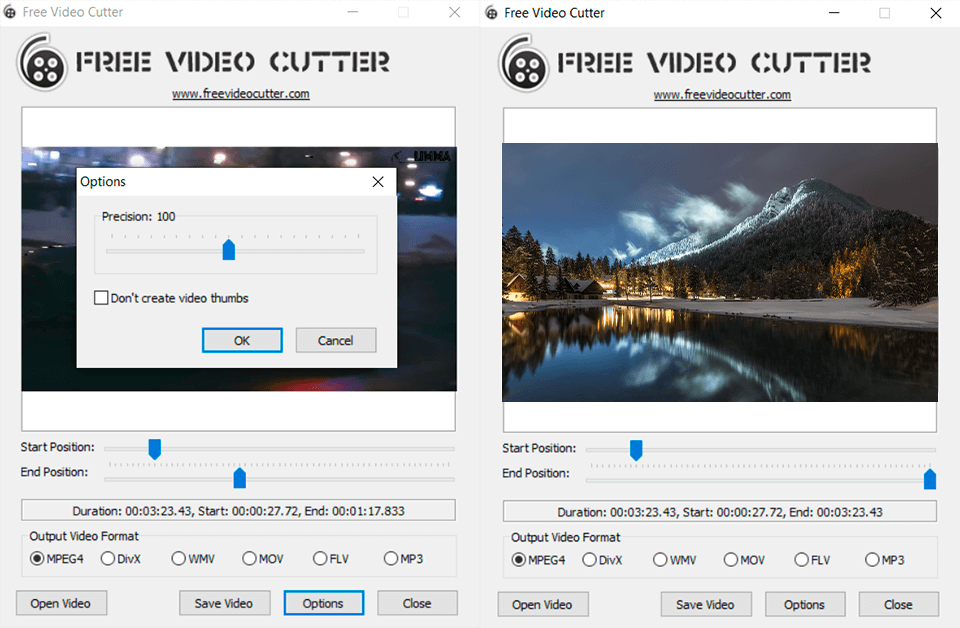 PROS
This free video splitter can work with many types of video files.
Save your video in many different formats.
CONS
The video quality that Free Video Cutter delivers is a little poor.
You will need to manually turn off the video thumbnails in the program.
8. iMovie (for Mac OS)
If you are using Mac OS X, you could use iMovie to make the process of splitting video fast. This video editing application is a top choice for Mac users to trim/split video, apply visual effects, add text and add background music, etc.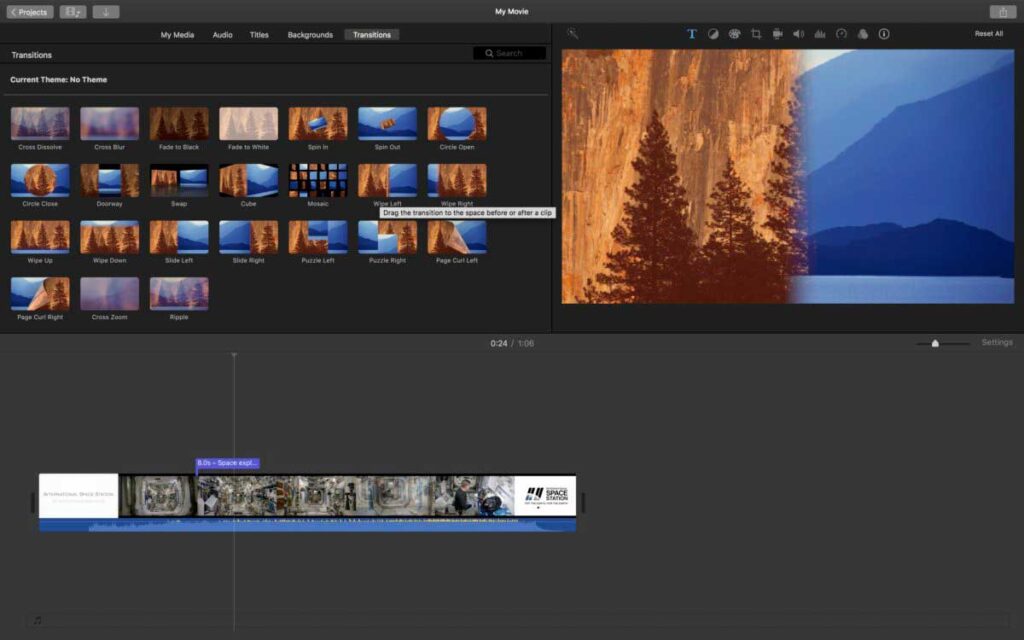 PROS
The intuitive functions make video editing easy for average users.
This application has various audio enhancement tools.
Automatically save the unfinished video projects.
CONS
The clip/trim feature is not precise enough, you can't split the video by frame.
It does not have a built-in library of audio to choose from.
There are limited headline/text/font options.