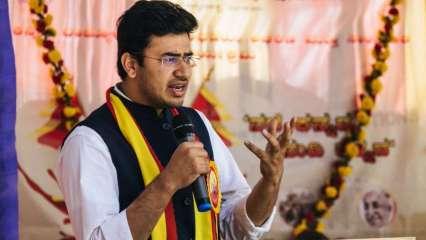 Telangana police have booked Bengaluru South MP Tejasvi Surya for entering Hyderabad's Osmania University without obtaining permission from the university authorities.
A case was registered against BJP MP Surya after a complaint was filed by the University Registrar.
"Case registered against BJP MP Tejasvi Surya for entering Hyderabad's Osmania University without taking prior permission from the university authorities. The University Registrar had complained against him," Telangana DGP said to ANI.
Surya, who went to Hyderabad to take part in the party's campaign in GHMC polls scheduled to take place on  December 1, entered the University campus on Tuesday along with Bharatiya Janata Yuva Morcha workers by breaking open the barriers at the NCC gate.
In a tweet, Surya said that he wanted to pay respects to the martyrs of the Telanagana movement but the K. Chandrashekar Rao-led state government did not allow them to enter.
"Try how much ever you want, KCR Garu, but you can't stop BJYM from paying respects to Telangana martyrs. You are in power today because of the sacrifice of thousands of common students of Telangana. Please don't forget their sacrifices!" Surya tweeted.
Ahead of local body elections in Hyderabad, BJP Yuva Morcha's national president  said that Telangana's definition of democracy has changed, it is "of the family, by the family and for the family."
"Voting for BJP is voting for an idea. Democracy is a system of the people, for the people and by the people," he added.
Surya also targetted the Owaisi brothers and said that the only thing Owaisi brothers allowed in Hyderabad is Rohingya Muslims.
"It is laughable that Akbaruddin and Asaduddin Owaisi are speaking of development. They haven't allowed development in old Hyderabad, the only thing they allowed is Rohingya Muslims. Every single vote to Owaisi is a vote against India," said Surya.
This article is auto-generated by Algorithm Source: www.dnaindia.com