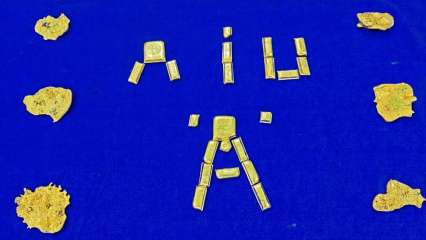 Based on intelligence, Air customs officials seized 1.26 kg of gold worth Rs 63.47 lakh from eight passengers who had arrived from Dubai in Chennai. 
Seven passengers were intercepted at the exit on suspicion of smuggling gold. As many as 22 gold cut bits weighing 600 gram wrapped in the black adhesive tape were found ingeniously concealed in the hollow pipes of baggage trolleys belonging to Rahuman Hameed of Ramanathapuram and Mohamed Niyas of Chennai. Niyas was arrested as he had an earlier offence registered against him.
Five bundles of gold paste weighing 681 grams concealed in the rectum were recovered from Ragamath Ali, Jameel Ahamed, Mohamed Mussammil, Syed Mujahideen of Ramanathapuram and Mohamed Ibrahim of Chennai. On extraction, the paste yielded 522 grams of 24K purity gold.
Abdul Hakkim of Ramanathapuram, who arrived from Dubai by was intercepted and frisked. Two long plastic pouches containing gold paste weighing 164 grams were found ingeniously stitched inside the length of his jeans. On extraction, 138 grams of 24K purity gold was recovered and seized.
Earlier this month, in two separate cases, Chennai Air Customs officials seized 239 grams of 24K purity gold worth Rs 12 lakhs and Saudi Riyals, US dollars worth Rs 6.5 lakh. 
According to officials, on Monday, Dubai returnee Mohammed Hasan Ali, 23, of Ramanathapuram had arrived. He was intercepted by a Customs officer as he was rushing through the green channel when his slippers happened to come off. The officer who tried to help pick his slipper found it to be unusually heavy. 
On examination, gold paste was found concealed in the cavity between the extremely broad leather straps. Four gold paste packets- two from each slipper, weighing 292 grams were recovered. 239 grams of 24K purity gold valued at Rs. 12 lakhs was recovered and seized under the Customs Act.
At the departure terminal, Sahubar Sathik, 21, of Ramanathapuram who was destined for Dubai was intercepted as he was proceeding to the security hold area after clearing Immigration. He was frisked on suspicion of carrying foreign currency. 7000 Saudi Riyals (SAR) in the denomination of 500 were recovered from his wallet and US $7,000 in the denomination of 100 dollar bills were recovered from his hand baggage. 
Total undeclared foreign currency equivalent to Rs. 6.5 lakh was seized under the Customs Act.
This article is auto-generated by Algorithm Source: www.dnaindia.com