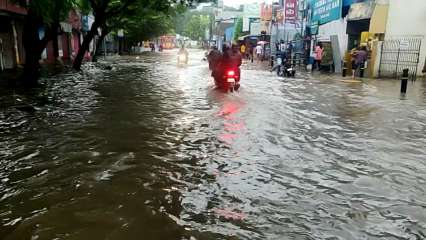 Authorities in Tamil Nadu have issued a caution for those living in low-lying areas, along the Adyar river, as 1000 cusecs of water are to be released from the Chembarambaakam reservoir from 12 noon on Wednesday. Chembarambakkam in the Kanchipuram district is among the five reservoirs that supply water to the city. When released, the water from this reservoir meanders through major parts the city via the Adyar river.
According to officials, the decision to release water from the reservoir has been taken considering that it has neared 80 per cent capacity and that water has risen to 22 feet, whereas the maximum height is 24 feet. 
Given that the inflow to Chembarambakkam lake has been 4027 cusecs, 1000 cusecs would be rebased from the afternoon and depending on increases in inflow, the release of water would also be regulated and increased.  
Chennai and other North Coastal districts and interior districts of Tamil Nadu have been issued heavy rainfall warning, in view of the Severe Cyclonic storm Nivar which is to make landfall between Tamil Nadu and Puducherry coast. The meteorological department predicts that it will make landfall between the intervening night of Wednesday-Thursday or in the wee hours of Thursday. 
The Cyclone is about 350 km southeast of Chennai and landfall is expected between Karaikal and Mamallapuram, around Puducherry, besides the heavy rains, gusty winds of up to 145kmph that are forecast. Nivar is to further intensify into a very severe cyclonic storm through the course of Wednesday. 
Showers across Chennai and adjoining districts of Tamil Nadu have led to an increase in the water levels of the main reservoirs. Levels have risen from 6706 Million Cubic feet (Mcft) to 7299 (Mcft) over the last 10 days. 7299 Mcft is about 65% of the total capacity of 11257Mcft. Between 5:30 am on Tuesday and 5:30 am on Wednesday, Chennai city received very heavy rainfall -about 12cm of rain.
It is notable that the mismanagement of water release from Chembarambakkam reservoir led to the catastrophic floods of December 2015 in Chennai, which left large parts of the city marooned and caused severe damage to life and property. 
However, this time around, Officials have allayed fears and stated that 1000cusecs is a small quantity compared to the amount of water released in 2015. 
This article is auto-generated by Algorithm Source: www.dnaindia.com