In eight separate cases, the Air Customs Officials at Chennai seized 1.67 kg gold and 4 kg saffron from Dubai returnees. The seized goods have a combined value of Rs 96.8 lakh.
According to officials, Thameem Ansari from Thoothukudi, who arrived was intercepted and his baggage was examined. A toy that was found to be unusually heavy was opened and inspected, a small transformer was found inside. On being cut open, 49 small gold plates, 25 'E' shaped and 24 rectangular, weighing 349 grams valued at Rs 18 lakh were recovered and seized.
Passengers Shahul Hameed and Kalandar Bahurudeen of Ramanathapuram, Syed Mudaseeruddin of Chennai were intercepted and frisked.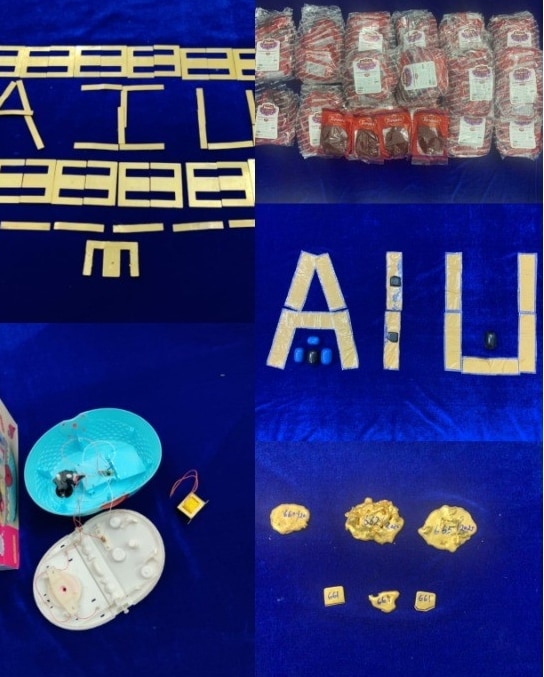 Five gold paste bundles were recovered from rectum, two gold paste pouches were found concealed in shirt sleeves, the bundles totally weighed 730 gram, which on extraction yielded 629 grams of gold. Two gold cut bits were also recovered from hand baggage. Total 701 gram valued at Rs 36.74 lakh was recovered and seized. Shahul Hameed and Kalandar Bahurudeen were arrested.
In another case, Bathurudeen of Ramanathapuram, a passenger was intercepted on arrival and frisked.  Two gold paste bundles weighing 300 gram were recovered and it yielded 265 gram, worth Rs 13.6 lakh, on extraction.
Rummaging of a from Dubai led to the recovery of 10 strips of gold paste weighing 406 gram from beneath a seat cushion. On extraction, the paste yielded 356 gram of gold valued at Rs 18.65 lakh. It was seized as unclaimed. 
Four kg of Grade 1 saffron were recovered from the hand baggage of Sarfudeen Abdul Majeed and Mohamed Rahumathullah of Ramanathapuram.  
This article is auto-generated by Algorithm Source: www.dnaindia.com