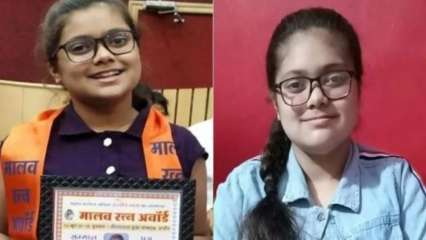 In what can only be described as an inspiring story, a student named Tanishka of Madhya Pradesh became a Bachelor of Arts (BA) student at just the age of 13 in Devi Ahilya University (DAVV).
She had passed 10th standard at the age of 11 and  12th at the age of 12 and has won the Asia Book of Award.
The admission process has been completed with the special permission of the Vice-Chancellor and Higher Education Department.
Tanishka secured her admission in Psychology in the School of Life Long Learning of Takshashila campus (Takshashila) of the university. However, she probably feels a tinge of disappointment as her father died recently due to COVID-19.
She now lives with her mother Anubha.
According to a Zee News report, Tanishka can write blindfolded. In view of this quality, she gained the status of being an unusual student in her school. She has been studying since the age of two and a half.
Then she studied till 5th standard at the age of 8 years, and after that was homeschooled.
At the age of 11, with special permission, Tanishka passed class 10 with first-class (1st Class) in Malwa Kanya School. After this, she also passed the 12th standard with first-class by filling the private form in class 12.
with the help of local MP Shankar Lalwani, after getting special permission from the state government, she got admission in DAVV.
She wanted to do BA LLB, but due to her father's disapproval, ended up doing the BA in Pyschology course. 
This article is auto-generated by Algorithm Source: www.dnaindia.com