Coronavirus News Live Updates: Some Congress leaders had on Sunday raised serious concern over the grant of approval to Bharat Biotech's COVID-19 vaccine for restricted use, saying it is 'premature' and can prove dangerous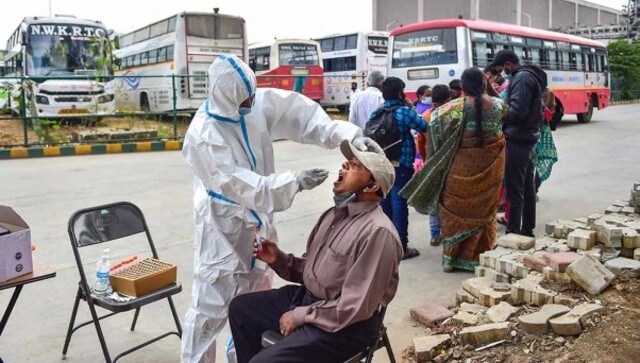 Coronavirus News LATEST Updates: Amid concerns over approval to Covaxin, Bharat Biotech will hold a press conference at 5 pm today, said reports. As per CNN News18, Dr Krishn and Suchitra Ella will address the presser.
A total of 38 samples have been found to be positive with the new UK variant genome, said the Union health ministry in a statement. Giving a break up of the cases, it said 10 samples have been found positive for the new strain in NIMHANS, Bengaluru, three in CCMB, Hyderabad, five in NIV, Pune, 11 in IGIB, Delhi, eight in NCDC, New Delhi and one in NCBG, Kolkata. NCBS, InSTEM, Bengaluru, CDFD Hyderabad, ILS Bhubaneswar, and NCCS Pune have so far not found the UK mutant strain in samples, it added.
"All these persons have been kept in single room isolation in designated health care facilities by respective state governments. Their close contacts have also been put under quarantine. Comprehensive contact tracing has been initiated for co-travellers, family contacts and others. Genome sequencing on other specimens is going on," the ministry said.
Madhya Pradesh chief minister Shivraj Singh Chouhan on Monday said he will take the COVID-19 vaccine shot after priority groups get vaccinated. Addressing commissioners, district collectors and superintendents of police in the state through video- conferencing, Chouhan said all districts of Madhya Pradesh are ready for the COVID-19 vaccination.
Mumbai on Sunday reported three COVID-19 deaths, which are the lowest in a single day since March last year, city civic commissioner IS Chahal said.
The UK's National Health Service (NHS) began rolling out the Oxford University vaccine developed by AstraZeneca as protection against COVID-19 , with an 82-year-old Oxford-born dialysis patient becoming the first to receive the new jab.
Prime Minister Narendra Modi hailed the achievements of the scientists in the fight against the pandemic and said India is "on the threshold of starting the largest vaccination programme in the world".
India logged 16,504 cases of COVID-19 and 214 related deaths between Sunday and Monday morning, according to the Union ministry of health and family welfare, taking the country's tally to 1,03,40,469.
There were 16,432 cases of the coronavirus disease on December 29 last year. The number of active cases of COVID-19 remained below the 250,000 mark for the second day on a row at 243,953.
According to the health ministry, 9,946,867 people have recovered so far with 19,557 patients of COVID-19 cured or discharged across the country in the last 24 hours. The national recovery rate has gone up to 96.19 percent. The daily new recoveries have been more than the daily cases registered since the last 38 days.
Drugs Controller General of India (DCGI) VG Somani on Sunday approved Oxford's COVID-19 vaccine, Covishield, and Bharat Biotech International Limited's Covaxin for restricted emergency use, clearing way for the government's vaccination drive against the coronavirus disease in about 10 days. However, the emergency use approval to the Serum Institute of India (SII) vaccine against COVID-19 developed by AstraZeneca and Oxford University, and the "restricted use in emergency situation" consent to Bharat Biotech's locally developed vaccine received criticism.
India's COVID-19 tally had crossed the 20-lakh mark on 7 August, 30 lakh on 23 August, 40 lakh on 5 September and 50 lakh on 16 September. It went past 60 lakh on 28 September, 70 lakh on 11 October, crossed 80 lakh on 29 October, 90 lakh on 20 November and surpassed the one-crore mark on 19 December.
According to the ICMR, 17,56,35,761 samples have been tested up to 3 January with 7,35,978 samples being tested on Sunday.
Find latest and upcoming tech gadgets online on Tech2 Gadgets. Get technology news, gadgets reviews & ratings. Popular gadgets including laptop, tablet and mobile specifications, features, prices, comparison.
This article is auto-generated by Algorithm Source: www.firstpost.com