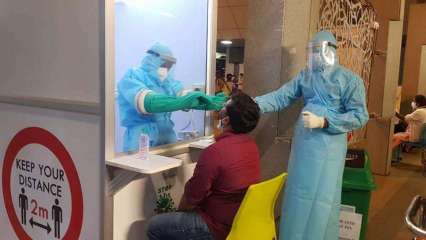 He was Speaking to the media after a Covid meeting with the experts in Technical Advisory Committee here at Vidhana Soudha on Friday. 'Winter months of December, January and February are conducive for spread of virus. Next 45 days are crucial for containing the virus,' he said. 
Referring to other countries he said that the records suggested that coronavirus second wave generally occurred between 45-90 days of the receding of initial wave. According to the Technical advisory committee report, the state of Karnataka too may have to face a second wave of the virus.
'Detailed discussion has been done in the meeting regarding precautionary measures to be taken during this period,' said Dr.Sudhakar.
'As per TAC suggestion, people should stop mass gathering, only 100 people will be allowed to attend the weddings, not more than 200 people will be allowed in religious gatherings and only 50 people allowed in cremation. Hospitals will also to be kept ready,' he stated.
A meeting will also be held during the third week of December to decide whether the schools and colleges are to be opened or not.
By keeping in mind that a second wave is approaching, the minister suggested all celebrations between December 20, 2020, and January 2, 2021, will be suspended at MG road and Brigade road in Bengaluru and added that the final decision on the matter will be taken in the meeting with Chief Minister BS Yediyurappa.
Meanwhile, 1446 more people contracted the infection across the state on Thursday while another 894 recovered from the same. As many as 24,689 cases are active as on December 3, with the total tally since March 8 rising to over 8.89 lakh in the state.
This article is auto-generated by Algorithm Source: www.dnaindia.com