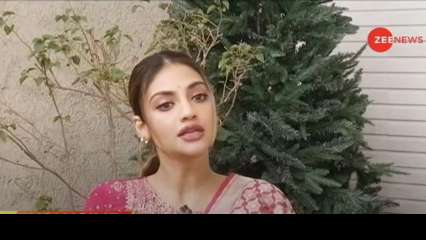 At the event held to mark the 125th birth anniversary of Netaji Subhas Chandra Bose in Kolkata on January 23, West Bengal Chief Minister Mamata did not deliver her speech "in protest" after 'Jai Shri Ram' slogans were raised when she was invited to speak. The chief minister said "government programme should have some dignity" and it "is not fair to insult somebody whom you have invited". The event was presided over by Prime Minister Narendra Modi. So what exactly angered Mamata Banerjee? Speaking exclusively to Zee News, Trinamool Congress MP from Basirhat and actor Nusrat Jahan said that it was the Bharatiya Janata Party (BJP)'s strategy to harass the West Bengal Chief Minister by shouting slogans like Jai Shree Ram. 
She asked, "This is a political slogan for the BJP, not a religious slogan. Why else aren't they taking names of other Gods?" She also said that the BJP is an "outsider" in the state and its leaders "do not know our culture and tradition, they garland a statue and say it was Birsa Mundas. They insult Netaji with Jai Shree Ram slogans."
When asked about a large number of  TMC leaders switching sides to BJP, the actor-turned-politician minced no words and said, "Those who are going to BJP are being offered a huge amount of money, plump posts and Z-security. TMC is a poor party in comparison to the BJP and we cannot give what the BJP is giving."
When asked about the allegations of former TMC leaders that it is only Mamata and get nephew Abhishek Banerjee who run in the show in the party, she dismissed this a rumour. She said, "It is not true that Abhishek Banerjee and Mamata Banerjee are the only ones running the party, each and everyone in the party is important," adding that "It is a lie that there is corruption, I have visited my constituency during Amphan cyclone and distributed relief items amidst Covid situation. So has other leaders, they are lying that they are not being allowed to work in their constituency."
She also strongly condemned the issue of "Love Jihad" and said that "there is law of the land and anyone who tries to convert someone forcibly, action should be taken against them. There is no need for any law on love-jihad."
"Muslim voters are intelligent in Bengal, they know MIM is a plant of BJP and they are not going to vote for them.  BJP is trying to polarise the poll environment here and making Hindus and Muslims against each other," the Basirhat MP added. 
Nusrat Jahan exuded confidence in chief minister Mamata Banerjee and said, "We are confident of winning the elections here."
The TMC and the BJP are engaged in a bitter battle ahead of the Assembly Elections in West Bengal this year. In the recent past, several TMC leaders have left the party and joined the BJP. In the 2019 Lok Sabha elections, BJP had made a sizeable inroad in the state bagging 18 of the 42 seats. 
This article is auto-generated by Algorithm Source: www.dnaindia.com