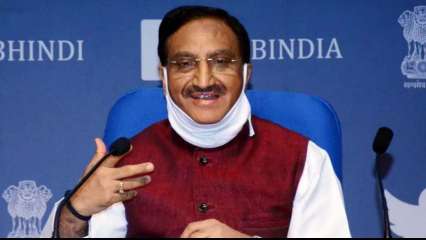 Union Education Minister Ramesh Pokhriyal 'Nishank' on Tuesday said that ever since the Modi government has come to power, it has only worked in favour of the farmers. Pokhriyal, at a press meeting in Haridwar, said that the three agricultural bills that the farmers' unions are opposed to are, in fact for the betterment of the farming community.
He also said that PM Modi's goal is to double farmers' income and the Opposition is only creating unnecessary confusion among the farmers over the bills.
The education minister said that the Opposition is alleging that with the implementation of the new law, Minimum Support Price (MSP) and mandis will end, but in actuality, there is no such provision in the bills.
"The Congress is creating confusion in the minds of the farmers without even reading the Bills thoroughly. The Congress has never done anything for the farmers of the country and now when the Modi government is working to strengthen the farmers financially with every section of the country, the Congress is creating confusion by lying to the farmers. If somebody makes a contract with the farmers, the farmers cannot authorize the land, the farmer can cancel the contract whenever he wants. The bill provides that payment has been ensured to the farmers within a definite time frame," Pokhriyal said.
The Congress is spreading false rumours about the land acquisition to farmers. The education minister said that since the Modi government came to power, the farmers are being given proper prices for the crops, it is on record, anybody can see. The Congress should apologise to the country for all the lies and confusion it has spread for political gain.
Meanwhile, Prime Minister Narendra Modi on Tuesday said the government is looking into the concerns of farmers over the new farm laws. Speaking at the foundation stone laying ceremony of a desalination plant, a hybrid renewable energy park, and a fully automated milk processing and packing plant in his home state Gujarat, PM Modi accused the opposition parties of misguiding the farmers.
This article is auto-generated by Algorithm Source: www.dnaindia.com