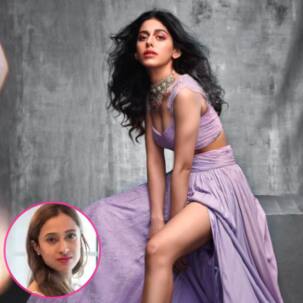 Shehla Khan's designs have been seen on Bollywood beauties like Sonam Kapoor, Jacqueline Fernandez, Kiara Advani and others. She had recently launched her new fall collection, too, with Alaya F being the face of the range. On that note, BollywoodLife caught up with her for an exclusive chat. Talking about the collection, she said, "This is a fall collection. I began work in the middle of the pandemic in June-July 2020. We were working in the middle of the pandemic. I wanted to make something that was sustainable, recyclable and environment-friendly. It is a wedding collection but a lot more affordable." Also Read – Kareena Kapoor Khan's interior designer spills details about the couple's new home and it's royalty personified
She explained further, "In current times, weddings have downsized. People do not want to be extravagant. The embellished look has been toned down. No one wants to look like an X'Mas tree. The new collection has the Shehla Khan aesthetic. It is stylish but in an edgy way." Alaya F is the face of the collection. She says it was a dream to work with Alaya F. "She is vibrant, versatile, spunky and has that vibe about her. The collection is about wearable affordable couture and she fit the bill. She is very talented. In an hour, we finished about five looks. Alaya is spunky and totally at home in front of the camera," she added. Also Read – Janhvi Kapoor ADMITS to keeping a secret from her father Boney Kapoor; REVEALS her dating moves
The designer says that nobody is as interested in fashion as they were before as the focus is now on comfort more than the picture. "Repeating clothes is not a big deal any more. The pressure is not as much. People are veering towards more sustainable stuff. Yes, people do have an image to maintain. Since, there are in the limelight, they need to take a bit of an extra effort. Athleisure is the trend of the day. The judgement is a lot lesser now," she says. Also Read – Preggers Kareena Kapoor Khan is missing her 2007's waistline and we cannot stop gushing over her throwback post
Whether it is Lebanese or Australian designers, Bollywood beauties have the best at their feet. Does she feel a sense of bias? "I do not think it is bias. People are exposed to international fashion and want to explore options. When it comes to gowns for red carpet events, it is a general preference to look at international designers. If you have that kind of money you did buy a Valentino over an Indian label. These stars have the money and access. If they get to wear the best and return it, why lose the opportunity. Indian or foreign, it depends on what they are looking for," she opined.
What does she feel about Diet Sabya? "I think it is great. It is an Indian version of Diet Prada. I have also been scrutinised twice. At times, they are very harsh. I feel at times, they are not correct. But I am totally against plagiarism. I also look at past collections of designers, but I would never think of copying someone. Nor I do I like my work being copied," she stated.
She also claimed to be a huge fan of Karisma Kapoor. "I feel she is very chic with a great sense of style. Kareena also dresses well. I love designing for my friends like Sonam, Jacqueline and Kiara," she says.
Opening up on her fashion tip for women in 2021, she concluded, "Invest in good basics like track pants, tee and joggers. Get good workout clothes. Also, I believe in buying quality timeless pieces."
This article is auto-generated by Algorithm Source: www.bollywoodlife.com