Best Gaming Deals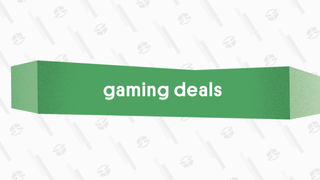 Best Gaming Deals
The best deals on games, consoles, and gaming accessories from around the web, updated daily.
Featured Deal: The Mandalorian on Bantha with Child (Pre-Order) | $25 | Amazon
The best Funko Pop deals of January 2021 are here.
Love 'em or hate 'em, Funko Pop toys are absolutely ubiquitous. There's a licensed Funko toy for nearly every significant movie, TV series, comic book, and video game, not to mention many bands, celebrities, and historical icons. And we're still barely scratching the surface.
There are thousands of Funko Pop toys out there, and thankfully it's not that difficult to find some excellent deals. We've picked many of our favorites below, including some figures available for just $3 apiece as well as sizable discounts on larger premium releases.
The Mandalorian on Bantha with Child (Pre-Order) | $25
The Mandalorian Funkos have been in high demand all year and there's more on the horizon. This deluxe Funko Pop is due in January, depicting Mando himself riding a Bantha with lil' Baby Yoda strapped in for the ride. The list price is $33, but you can grab it at a discount and secure this sure-to-be-in-demand collectible by dropping a pre-order now.
G/O Media may get a commission
Ms. Marvel (Avengers Game) | $8
The modern Ms. Marvel, or Kamala Khan, is undoubtedly one of Marvel's best creations in recent memory, and the young heroine was one of the best parts of the recent Marvel's Avengers game. This particular Pop shows her sleek outfit from that game, plus it's 29% off the list price right now. The game is currently half-off at Amazon, too, if you missed it.
Star Wars: The Rise of Skywalker Pops | $4-5 Each
The last Star Wars film generated a lot of divisive reactions… and, as expected, it sure as hell generated a ton of merchandise too. If you're looking to finish out a set of Rise of the Skywalker Pops, Amazon currently has the Rose Tico, Jannah, and Lieutenant Connix toys for just $4-5 apiece. Meanwhile, Best Buy has Poe Dameron, Lando Calrissian, and Zorii Bliss for just over $5 apiece.
Mad Men Betty Draper | $3
Like many characters on the brilliant AMC series Mad Men, Betty Draper was elegant, privileged, and deeply flawed. But unlike many of the other Pops based on the show's main characters, you can score this Betty toy for a mere $3 right now at GameStop.
Disneyland 65th Donald on Matterhorn | $25
Recently launched to mark 2020 as the 65th anniversary of the opening of Disneyland, this adorable deluxe Pop shows Donald Duck on the classic Matterhorn roller coaster. Die-hard Disney parks fans will want to add this to their collection, and maybe (just maybe) it'll help ease the agonizing wait until you can safely visit again. Save more than $5 at Amazon right now.
The Simpsons Panther Marge | $6
There are a whole lot of The Simpsons Pops, as you might imagine, but this is one of the most distinctive of the bunch: Panther Marge from the Treehouse of Horror XIII. Adorable? Eerie? A little bit of both? Whatever your take, you can snag it for less than $6 at Amazon.
Disney Frozen II Mattias | $4
Lieutenant Mattias was a breath of fresh air in Frozen II: voiced by Sterling K. Brown, he's a strong but nuanced character of color in a fictional world that had been very white before the sequel. His Funko Pop is currently down to just over $4 at Best Buy.
Funkoverse DC Board Game | $21

Get your game on with this Funkoverse strategy board game inspired by DC Comics' Batman comic book universe, which come with four miniature Pops.
You'll get Batman, Batgirl, Joker, and Harley Quinn in this set, which comes with the game board with two playable maps designed for up to four players. Right now, it's 48% off the list price at Amazon.
Neon Genesis Evangelion Eva Unit 01 | $27

This sick, blood-covered version of Eva Unit 01 from anime classic Neon Genesis Evangelion stands six inches tall, and it's a limited edition version of the imposing cyborg beast. It's a few bucks off the original asking price.
---
This article is auto-generated by Algorithm Source: roundups.theinventory.com