India's left-arm fast bowler T Natarajan was given the task of defending 14 runs off the last over in the third ODI against England and he had to deal with a rampaging Sam Curran at the other end. It was a nerve-wracking moment for the Tamil Nadu bowler, who was playing his first match after some time.
Sam Curran had brought England on the cusp of an unlikely win from 257/8 at one stage. England needed just 14 runs in the last over after India had pulled back quite sharply in the 48th and 49th over of the innings, bowled by Bhuvneshwar Kumar and Hardik Pandya respectively.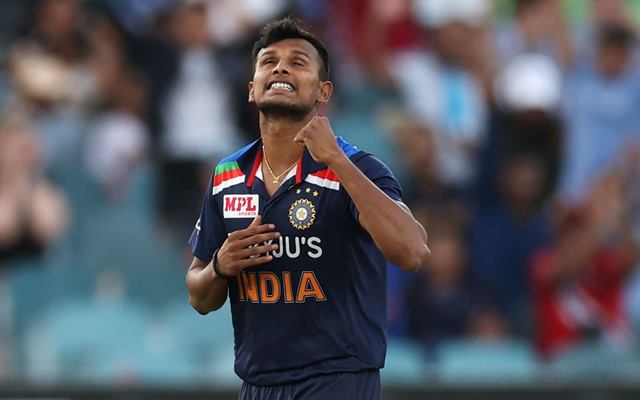 The onus of bowling the last over fell on Natarajan who had gone for 67 runs in 9 overs, picking one wicket of Ben Stokes. Before him, Shardul Thakur had taken 4/67 and Bhuvneshwar Kumar ended with figures of 3/42 in their 10 overs respectively. Natarajan trusted his specialty of bowling yorkers in that over and nailed it perfectly.
T Natarajan Held His Nerves. Full Credit To Him For Nailing The Yorker Right: Michael Vaughan
Former England player Michael Vaughan lauded T Natarajan for nailing the yorkers in the tense last over against Sam Curran. It was this delivery that made T Natarajan famous in the IPL, paving his way to the Indian team. Natarajan held his nerve and gave away just six runs to help India win a last-ball thriller.
"It's still the hardest ball (yorker) to get under and that's what Sam Curran needed. He just needed a little bit of elevation to get under the ball and T Natarajan held his nerves. He's got that trajectory – a little bit lower and skiddier and he angles them into the pads of Sam Curran.

T Natarajan and Sam Curran (Photo- BCCI)

You could only imagine the heart-rate of Natarajan when he's throwing that ball and he's got to deliver that skill with billions watching. Full credit to him for nailing the yorker right," Vaughan said in a video on Cricbuzz.
Bowling A Yorker Is A Dying Art: Michael Vaughan
Furthermore, Vaughan called bowling a yorker a dying art in today's game. He said that a bowler needs to be calm and collective to nail the yorker perfectly and named Lasith Malinga and Brett Lee as some of the best bowlers of yorkers in the last few overs.
"It's a dying art. In the era of white-ball cricket being so dominant, so many T20 leagues around the world and these players are playing so much of it, you would think that there are a lot of bowlers who can nail the yorkers. It is still the hardest ball to hit right at the end.

Michael Vaughan [Image-Ggetty]
If you miss it, of course, you are going to go into the stand. If you've got the calmness and the skill level to bowl the yorker under pressure, you go back to Lasith Malinga, Brett Lee towards the backend," Vaughan added.
The players from both India and England will now have a short break before they engage in the upcoming 14th edition of the Indian Premier League (IPL 2021).
Also Read: I Try To Bring In The Cutters And Slower-Ball Bouncers To Outfox The Batsmen: Shardul Thakur 


This article is auto-generated by Algorithm Source: cricketaddictor.com