Police in India are patrolling the banks of the Ganges River to stop people from dumping corpses of those who died from COVID-19, as the country added over 326,000 new virus infections in the past 24 hours.
In India's most populous state of Uttar Pradesh, authorities have begun cracking down along the river amid local media reports that up to 2,000 bodies of virus victims have been retrieved from the water in the last week, Reuters reported.
Navneet Sehgal, a spokesman for the northern state, denied that the numbers were that high, but acknowledged that discarding bodies along the Ganges was an increasing problem.
"We keep recovering 10 to 20 bodies every now and then," Sehgal told Reuters. "We have put a police force on the river and have also sent communications to local authorities that this practice be stopped."
Earlier this week, authorities in Chausa village of the eastern state of Bihar placed a "net" in the river to catch the corpses of the suspected COVID victims following reports that dozens of bodies were seen floating across the water.
In the past 24 hours, India recorded 326,098 new virus infections, bringing its overall tally to 24.37 million. An additional 3,890 deaths were recorded for a toll of 266,207, according to the health ministry.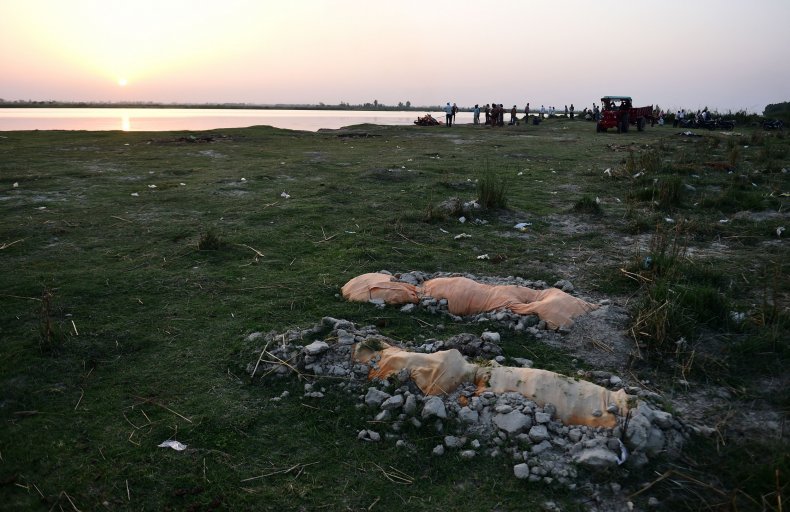 Since February, the country has been grappling with a devastating second wave of COVID-19 that has left hospitals overwhelmed and without adequate oxygen supplies. As COVID-19 deaths pile up, crematoriums have run out of wood to build funeral pyres and some cities have been forced to turn parks, parking lots and other public spaces into makeshift cremation sites.
On Friday, Indian Prime Minister Narendra Modi addressed the situation and said his government was "on a war footing," as the nation tries to contain a highly transmissible new strain of the coronavirus.
Modi warned that the latest outbreak is quickly approaching the nation's rural areas, and told officials to focus on distributing resources such as oxygen supplies in the hardest-hit regions.
"The outbreak is reaching rural areas with great speed," Modi told farmers during a virtual conference, according to Reuters. "I want to once again warn all…those who live in villages about corona[virus]."
"All departments of the government, all resources, our armed forces, our scientists, everyone is working day and night to counter COVID, together," Modi added.
Though health authorities have warned that the situation remains grave throughout much of the country, the overall rate of positive cases per tests had dipped to 19.8 percent this week from 21.9 percent last week, signaling that the nation may be on track to stabilizing the latest surge.
Cases are beginning to fall steadily in some areas, including the richest state of Maharashtra and the capital New Delhi, after authorities imposed full or partial lockdowns.
Nonetheless, India's government has come under scrutiny as the country struggles to vaccinate its residents against COVID-19. Though India is the world's largest vaccine producer, the country has only vaccinated roughly 2.9 percent of the population so far.
Newsweek contacted India's Health Ministry for additional comment.