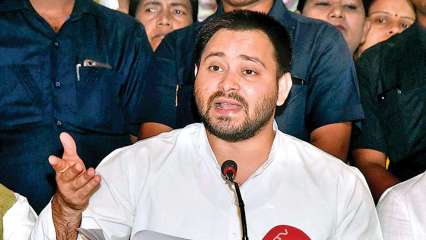 Chief Minister Nitish Kumar's Janata Dal United on Saturday demanded Tejashwi Yadav of the Rashtriya Janata Dal not to become the leader of the opposition in the Bihar Assembly due to allegations of corruption and criminal cases against him.
The demand by the ruling party came after JD (U) leader Mewa Lal Chaudhary resigned as the state's education minister on Friday, November 20 over the charge of corruption.
At a joint press conference held in Patna on Saturday, November 22, JD (U) state president Vashishtha Narayan Singh, working president Ashok Choudhary and spokesman Sanjay Singh, Neeraj Kumar and Ajay Alok criticised Tejashwi Yadav for hitting out at Chief Minister Nitish Kumar for appointing Mewa Lal Chaudhary as the education minister in his cabinet.
After Mewa Lal Chaudhary had resigned over allegation of corruption Tejashwi had taken on Nitish Kumar for making a "corrupt person" the education minister of Bihar.
The JD (U) leaders said that the resignation of Mewa Lal Chaudhary just two days after his appointment is a testimony to Chief Minister Nitish Kumar's "zero tolerance for crime, corruption, and communalism".
They further said that the superintendent of police of the district concerned has been asked to proceed with its investigation against Mewa Lal which clearly shows that the Bihar government of Nitish Kumar is not willing to shield him.
The three-phase Bihar assembly elections had concluded on November 7 and the NDA alliance led by Nitish Kumar had emerged victorious after the counting on November 20. Nitish Kumar was sworn in as the chief minister of the state for a fourth consecutive term.
The Rashtriya Janata Dal of Tejashwi Yadav had emerged as the single largest party followed by BJP that bagged 74 seats.
This article is auto-generated by Algorithm Source: www.dnaindia.com