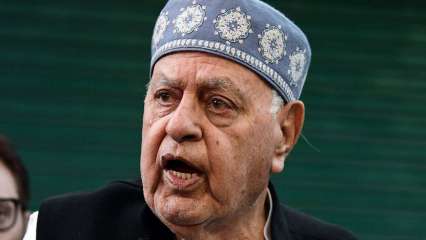 The Enforcement Directorate (ED), on Saturday attached assets worth nearly Rs 12 crores of former Jammu and Kashmir Chief Minister Farooq Abdullah in connection with the Jammu and Kashmir Cricket Association (JKCA) money laundering case.
Former Chief Minister and son of Farooq Abdullah, Omar refuted the agency's charges and said the seizures would be challenged in court. ED has been looking into the alleged financial irregularities in the Jammu and Kashmir Cricket Association during Farooq Abdullah's tenure as chief of the Jammu and Kashmir Cricket Association (JKCA).
The CBI had in 2018 filed a chargesheet against Farooq Abdullah, a National Conference MP, and three others, for alleged misappropriation of Rs 43.69 crore between 2002-11.
The Enforcement Directorate claimed it has found that between 2006 and 2012, Abdullah misused his position to launder JKCA funds. More than Rs 45 crore appear to have been siphoned off including large cash withdrawals, it said.
The ED has attached Farooq Abdullah's properties at Sanjwan and Tanmarg in Jammu, and the residential building at Srinagar's Gupkar Road and a commercial property at Residency Road. Apart from this, land from four different places in Jammu and Kashmir have also been attached.
Notably, the house on Srinagar's Gupkar Road and Commercial Building on Residency Road has been built on government land and Farooq Abdullah has leased it. Apart from this, the house on Sanjwan is a government and Forest Department land which has been occupied by Farooq Abdullah and he has built a house there.
The case pertains to embezzlement in the Jammu and Kashmir Cricket Association from 2005-06 to 2011. Farooq was the President of JKCA from 2006 to 2012 and 109.78 crores was given by the BCCI for the development of cricket in the state.
Farooq Abdullah has been questioned twice in Srinagar, in relation to this case in October.
This article is auto-generated by Algorithm Source: www.dnaindia.com