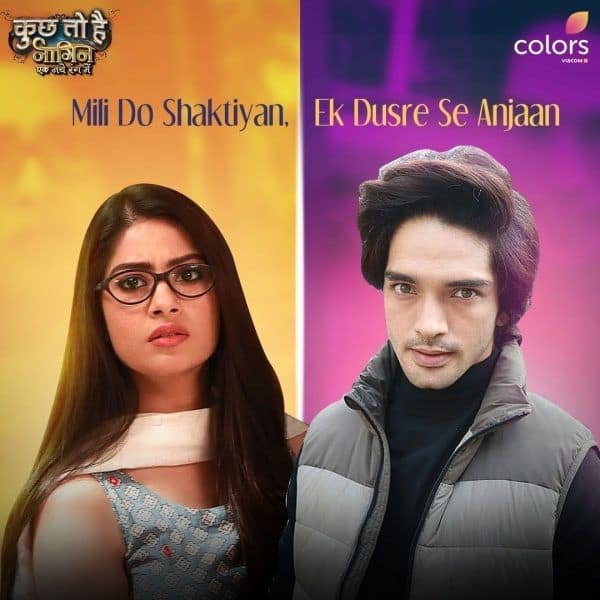 The episode starts with an introduction of how Rehan (Harsh Rajput), the AadiSaach an hybrid of Naagin and Cheel, who has a thirst for blood and once he will come into his mutated version, there will be no one in this world who could stop him. Mrs. Siddharth Khurana (Resham Tipnis) comes across the picture of Bani (Surbhi Chandna), which Priya (Krishna Mukherjee) dropped on the floor in the extravagant party. She wonders how the picture came at this place. She recalls the time when she had bumped into Bani in the past. Bani can be seen requesting to Mrs. Siddharth Khurana to not tell anyone about her real identity. Also Read – Naagin 5: 'Marry a guy who holds a woman like Veeranshu (Sharad Malhotra) holds his Bani,' says Surbhi Chandna
Here, Priya wonders how is she so familiar with the tune that she hears since childhood. As she walks through the jungle, she spots Rehan who hands over her lost dupatta. Their eyes meet and everything around them is on fire. Rehan mocks her to say thank you to him. Rehan wonders how he behaved in such a manner. This is the first time realises that it was not the usual him. Also Read – Naagin 5, 20th December 2020, written update: Veer decided to marry Chandni; Bani to sacrifice her eyes to save Veer from Chandni's clutches?
Something brings Rehan to a place where he tries to find something. His sister asks him why was he here. He shows her a piece of paper which has an address. He got the paper from a pickpocketer who asks him to visit the place which will help him to find his own identity and the truth behind his supernatural powers. Also Read – Naagin 5, 19th December 2020, written update: Veer asks Bani to get lost after spending the night with her
Priya realises that the photograph is missing. She wonder where it could have gone. Here, Mrs. Siddharth Khurana is trying to hide the photograph. The next moment, her daughter Roohi (Nibedita Pal) come asking about her whereabouts. She somehow manages to keep the photograph a secret.
Later, Roohi bumps into Arushi (Neha Tomar) who is busy into her research on ghosts. As Priya arrives in the dining room, Arushi wonders if Priya is the same person who she suspects to be a ghost. But somehow the situation gets deferred by Roohi's elder sister. Priya finds the photograph in the drawer. Mrs. Siddharth Khurana gets tensed as she pours juice into a glass.
The next day, Rehan comes across a number while traveling with his family members. He wishes to find out why they exist. Here, Priya questions Mrs. Siddharth Khurana if she is avoiding her. Mrs. Khurana denies. The next moment, Priya shows her the photograph and asks her if she knows anything about it. She tells that she's trying to know about her past and one of the ladies in the picture is her mother. Priya wishes to meet her mother and feel her warmth. But Mrs. Khurana immediately defuses the situation saying that she doesn't recognise anyone in the photograph. Deep down Mrs. Khurana wants Priya to leave the house so that her children could live in peace.
Priya and Rehan again cross path with each other. Rehan is clearly mesmerised by Priya. He keeps staring at her standing in the middle of the road as she tries to catch the butterflies. Rehan thinks of approaching her but changes his mind. At the next moment, Rehan sees a car approaching towards her fast. He uses his speed to grab Priya in his arms and push her away from the road. But a strange thing happens when Rehan touches Priya. He wonders how the dry leaves on the tree have turned green the moment he touched it after holding Priya in his arms. Mohit asks Priya if she is alright and he takes her with him in the car.
Priya comes back home with bruises on her hand. Everyone enquires about how it happened. Priya then goes into her bedroom. Swati wishes to accompany Priya to her room, but Mrs Khurana insists that she will go. She follows Priya to her room and witness her as she fixes her wounds with her supernatural powers. Mrs Khurana gets tensed and joins her family members in the hallway. Here, Arushi comes across the pink bicycle. Her friend tries to connect the dots and hints at Priya.
Priya doesn't remember who saved her on the road. She tries to recall but fails. Mohit comes and asks whether she is alright. He apologises to her for driving recklessly. Priya jokes in her mind that even if his car would have gone over her, she would have been alright. Soumya comes and asks Mohit to join them back. Mohit invites Priya too but she is fine alone. Priya watches Rehan treating the girls badly. She wishes to teach him a lesson.
This article is auto-generated by Algorithm Source: www.bollywoodlife.com