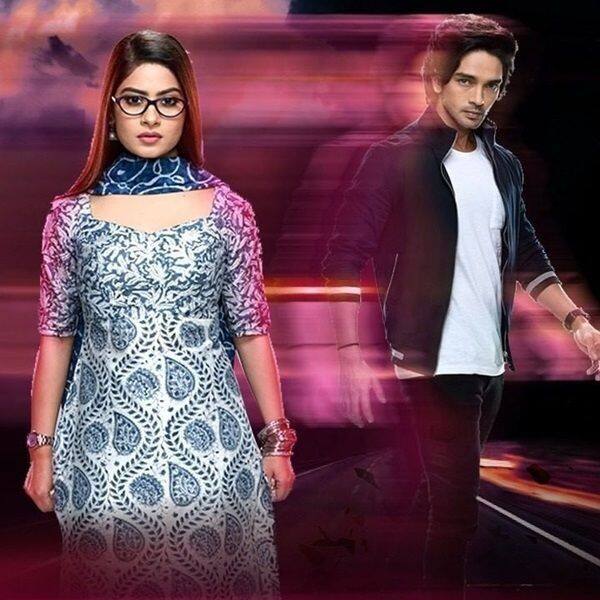 The episode starts with Priya (Krishna Mukherjee) confronting Rehan (Harsh Rajput) for his misbehaviour with girls. She teases him the same way he teases other girls. Rehan seems mighty impressed with Priya's fiesty attitude. But the very next moment, Rehan shows Priya her place and asks her to brush up her skills. The rest of the family are seen sitting together for a small treat. Mr. Khurana invites Rehan to sit with them and eat something. Rehan, who doesn't eat like normal human beings, cleverly avoids them. Priya follows him upstairs. She insists him to eat something. Rehan shows attitude. Priya gets pissed and asks him to get lost. Rehan then flees from the spot and hangs himself upside down thinking why is he behaving like a normal being whenever he's in front of Priya. Also Read – Kuch Toh Hai – Naagin Ek Naye Rang Mein, 13th February, written update: Priya wants to teach Rehan a lesson for misbehaving with girls
Rehan begins his quest to find his true identity. He reaches the place where he saw a poster stuck on a tree with the same number that he had on that small piece of paper. But someone has removed the number by tearing that part of the poster. Meanwhile, Mrs Siddharth Khurana (Resham Tipnis) sneaks into some secluded place wearing a long hoodie. She looks at the water pond and speaks to it informing that AadiSaach is back in Mussoorie and along with Priya. She is worried what will happen next. Also Read – Kuch Toh Hai – Naagin Ek Naye Rang Mein: Harsh Rajput on working with Ekta Kapoor; says, 'She is extremely charismatic'
Priya, on the other hand, tells Swati that she wants to find a job and start paying rent so that she will feel a bit relaxed being a tenant. Here, Arushi is trying to find out the truth of the ghost. Mrs Khurana expresses her worries that Rehan will soon get back all his powers. Here, Rehan asks questions his identity and how did he possesses supernatural powers. He wonders who has cursed him to be like this. Priya, who is cycling through the jungle, finds Rehan in a different state. Priya wonders why everything is so strange whenever Rehan's around. Here, Arushi comes across some old journal which has the same number, 3:13:21 along with a name 'Mayuri', which Arushi thinks is a date. Also Read – Kuch Toh Hai – Naagin Ek Naye Rang Mein: Harsh Rajput opens up on how he and Krishna Mukherjee finally felt comfortable with each other
Here, Rehan thinks about the man who gave him that number and then turned into a snape. He again flees from his room. Mrs Khurana thinks either Rehan will kill Priya or Priya will kill Rehan. On the other hand, Priya is in search of a job but there are no jobs. She again crosses path with Rehan who is driving a car alongside her. He teases her and waves a goodbye as he accelerates. Priya is pissed. She uses her powers and overtakes him. Rehan wonders where Priya went and thinks he probably must have lost her because he is too fast for her. But the next moment, he sees Priya in front of him. She falls from the bicycle. Rehan asks her how did she went ahead so fast. Priya tries to defuse the situation and makes Rehan thinks he is delusional. He tells her he will drop her since he cycle is broken. Priya agrees thinking that she might make him feel that she is a normal helpless girl.
Mrs Khurana is back home. Rehan too gets back home with Priya. Rehan again pisses off Priya. Her dupatta gets stuck as she walks off from him calling him a jaanwar. She thinks Rehan has grabbed her dupatta. But it's stuck on his jeep. Rehan tries to take it out but the moment he touches it, her dupatta is set ablaze. Priya wonders why it happened. Rehan defuses the situation saying his jeep is too old and some spark might have caused the fire.
Priya dials the Warden and informs her that she saw the same woman (Mrs Khurana) in the picture but she refused to help her. She says she's trying to find a job and the family she is staying with is very jovial and understanding. As she says that the warden knows about her supernatural powers and that her vision is powerful when she takes off her glasses, Mrs Khurana overhears her conversation. And as Mrs Khurana enquires about Priya that she is dire need of money, Mr Khurana comes and says, 'the one who has superpowers, don't require money." Both Priya and Mrs Khurana are shocked.
Priya shows she's an ignorant and asks Mr Khurana. Mrs Khurana looks at her reaction. Mr Khurana then reveals that he was talking about marksheet and the fantastic marks she has got which only a person with superpowers can get. He tells Priya that she will also get a scholarship. Mrs Khurana interjects and asks what about the rent, to which, Priya replies that she will find a job. Roohi (Nibedita Pal) informs her that they have got a job for her at Rehan's restaurant. Mrs Khurana yells at her daughters saying why they are trying so hard to stop Priya who then wonders why she is acting so strange with her.
This article is auto-generated by Algorithm Source: www.bollywoodlife.com