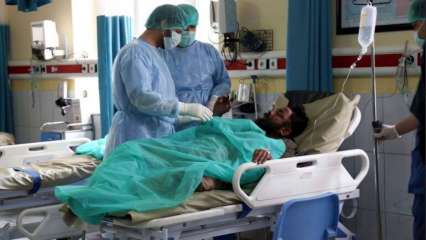 Amid the new cases of Coronavirus infection, medical practitioners and doctors are faced with new issues. Recently, a woman complained of pain in her waist and back in Maharashtra's Aurangabad. On examination, doctors found her body filled with pus and antibodies to the COVID-19 infection were also found. This is the first such case in the country.
The woman had got infected with the COVID-19 infection and had recovered.
On November 28, she went to see a doctor. There was a swelling on her legs accompanied by excruciating pain. Such pain is usually the result of a fracture, tumor or infection. On detailed examination and an MRI, it was found that pus had accumulated in her body.
She was hospitalised immediately and a team of doctors removed almost half a litre of pus from her body. The woman was discharged on December 21.
In Germany too, six such cases have been reported wherein the patient's antigen test showed a negative result but antibodies were present in the body.
Spine surgeon Dr Shrikant Dahibhate said that this is the first such case in India. For this reason, further studies are needed. We should not consider ourselves safe after recovering from Corona. In the future, different types of symptoms are starting to appear due to corona. Therefore care is also necessary before and after corona.
Meanwhile, eight people arriving from Britain tested positive for COVID-19 this week and more results are awaited, officials from three Indian cities said. So far none of the infections appeared to be a new strain, a senior government advisor said, while a testing coordinator said the analysis was still ongoing.
Recorded COVID-19 infections in India exceeded 10 million at the weekend, second only to the United States. More than 146,000 people in India are recorded to have died from the disease.
The discovery this month of a new more easily transmissible form of the virus in Britain is a particular concern since several hundred people typically arrive at each of India`s major airports from Britain every day.
India suspended flights from Britain from Wednesday until the end of the month and has been testing passengers.
This article is auto-generated by Algorithm Source: www.dnaindia.com