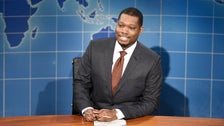 Many LGBTQ advocates did not find a joke that Michael Che told on "Saturday Night Live" this past weekend very funny.
The "SNL" co-head writer is being accused of transphobia because of a quip he offered about transgender bodies on the show's "Weekend Update" segment. Che addressed President Joe Biden's executive order last week that repealed former President Donald Trump's transgender military ban.
"President Biden signed an executive order repealing Trump's ban on transgender people serving in the military," Che said during the segment. "It's good news, except Biden is calling the policy: 'don't ask, don't tuck,' which is not good news."
Many advocates and members of the LGBTQ community expressed their concern over the joke on Twitter, and characterized Che as anti-trans.
Trump's controversial executive order, which he issued in 2017, declared that transgender people could only enlist in the military under the gender they were assigned at birth. Initially blocked by courts, it went into effect in 2019, resulting not only in trans people being banned from joining the military but forcing those already in the various service branches to hide their identities.
Biden's repeal of the ban was a momentous occasion for many. Trans plaintiffs involved in multiple lawsuits against the Trump administration over its ban told HuffPost that Biden overturning the policy left them feeling "incredibly light" and "thrilled and relieved."
"It is certainly a relief knowing that the very highest levels of my leadership are no longer out to get me," Brock Stone, an 11-year Navy veteran and transgender man, said in an email to HuffPost.
Some Twitter users pointed out that Che's joke put a damper on the joy spraked by Biden's move.
This is not the first time that Che has been accused of being transphobic on "SNL."
In 2019, Che misgendered Caitlyn Jenner. In this particular joke, Che called Jenner, who came out as transgender in 2015 and identifies as female, a "fella."
Colin Jost, Che's "Weekend Update" co-anchor and co-head writer of "SNL," was accused of cracking a trans-insensitive joke in 2016 — when Tinder gave its trans and gender-nonconforming members the option to choose from a variety of gender alternatives on its dating app.
"The dating app Tinder announced a new feature this week which gives users 37 different gender identity options," Jost said on "Weekend Update."
"It's called 'Why Democrats lost the election."
Calling all HuffPost superfans!
Sign up for membership to become a founding member and help shape HuffPost's next chapter


This article is auto-generated by Algorithm Source: www.huffpost.com