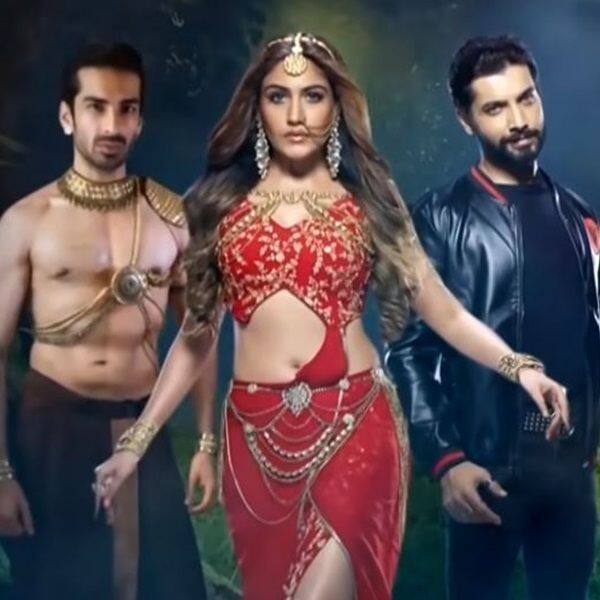 The finale episode of Naagin 5 starts with Jay aka Maadkaat (Mohit Sehgal) trying to push Bani (Surbhi Chandna) away from him as he lies on the road. Veer (Sharad Malhotra) drives the car like crazy trying to reach somewhere. He recalls what Jay had told them when they had pierced the sword through the latter's chest. 'Mai Maadkaat hu. Kabhi nahi marunga. Maroge tum,' says Jay. And the very next moment, an asteriod like thing crashes before Veer and Bani. Realising what lies before them, Bani tells Veer that she is pregnant with his child. We are now shown what had transpired 14 hours ago. Also Read – Naagin 5: Surbhi Chandna opens up on shooting romantic scenes with co-star Sharad Malhotra
Jay and Bani battle it out in the middle of the road. Jay pleads for his life but Bani is in no mood to forgive him this time. Bani wraps Jay in her skin and keeps slamming him hard on the ground. Jay throws a mysterious stone (Jaadu Dhrav) that takes away Bani's ability to turn into a deadly Naagin. Bani freezes in the middle of the road. Veer, who is driving the car really fast, see Bani's reflection on the road. He tries to convince himself that he is day dreaming and drives the car over Bani who lies on the ground without moving an inch. Jay says that Bani will soon be a dead Naagin. Also Read – Naagin 5: Sharad Malhotra, Surbhi Chandna, Mohit Sehgal and rest of the cast bid adieu to the show on a happy note
Meanwhile, Balwant and Meera are worried about the safety of Veer and Bani. Shukla informs Balwant that someone has meddled with Grahas (planets). But Balwant and cheel didn't know that it was Jay who was disguised as Shukla. Bani is worried how she will stop Jay from fulfilling his ugly intentions. Jay as Shukla lures Balwant, Meera and other cheels to sit in a havan which he will use it to tie all them up. Jay takes two pheras as Shukla while the third phera he has to complete being his real self. Jay successfully takes the pheras and ties everyone up. But Meera frees herself from the magic spell as she threw her ring outside the chalked bracket before Jay could finish his pheras. Also Read – Naagin 5, 31 January 2021, Written Update: Bani saves Veer from Jay's clutches
Here, Veer finds Bani lying unconciously on the bed at a secluded house. Jay is unable to identify Bani because of the magic spell. Jay is determined to kill Bani once and for all. Veer fails to understand where the baby voices are coming from. Veer hopes Bani to get well soon and leaves the house. Bani finally is free from the spell but she is still unable to use her powers. Jay laughs and tells Bani that he has pushed Veer off the edge and now he is dead. Bani is in disbelief.
Bani tells Jay that it was because of him she travelled so many Yugs to correct things from the past. But Jay informs her that he is no more a half naag and now he is Maarkaat. As Jay attacks Bani making her fall on the ground, Bani says Jai Bholenath and uses her powers to its full potential. She pushes Jay so hard that an iron rod gets through Jay's chest.
Bani somehow saves Veer and reminds him who he really is. Both recalls their emotional moments and hug it out after Bani says I Love You to Veer. Bani asks Veer with curiosity how did he get his memory back. He tells her that it was her love that brought his memories back.
Veer and Bani reach somewhere to a mountain terrain where a wounded Jay tells Bani that once the Shani is done rotating, she will die. Veer and Bani dodge the raining fireballs as they run for their life. They both are in tears as they hug each other. Bani realises that she can't run away from her destiny. She tells Veer that they both are together despite all and that's what matters to her the most. She informs Veer that she is pregnant with his child. Veer is now more determined to save Bani and his child. Bani assures Veer that nothing will happen to their child since the Farishta had told her that their love will live and create a new future.
Balwant, Meera and others reach where Bani and Veer are trapped amid the raining fireballs. Meera pleads Bani to come out of the risky space. Balwant tries to turn himself into a cheel to save them but he is unable to do so because of the magic spell. The fireballs keep crashing near Bani and Veer. They discuss if it's a girl, they will name her Viva and if it's a boy, they will name him, maybe, Baashu? A huge fireball falls on Bani and Veer as they hug each other and they die together by its powerful impact. But their son lives. Bani and Veer turn into spirits and wish a good life for their child.
Here, Jay, who is also struggling for his life, comes across Bani and Veer's child. He wishes to kill the child which will give him immense power. But the moment Jay tries to kill the child, a strange electrying wave comes out of the child's hand and throws Jay into the fire which kills him.
The Farishta appears and informs the viewers that a new species has born which is neither Naag nor Cheel. He will stay with humans but won't be able to tolerate them. He calls the new species as an Adi-Shadh.
This article is auto-generated by Algorithm Source: www.bollywoodlife.com