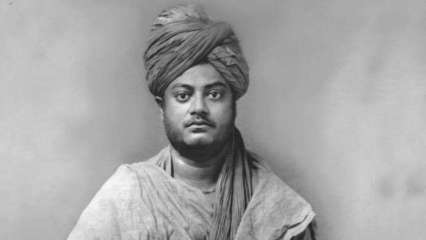 Every year on January 12, the country celebrates the National Youth Day to honour Swami Vivekananda. It was on this day in 1863 that the youth icon was born. The day is also known as Yuva Diwas and is observed at schools and colleges with functions, speeches and so. Let's know more about the monk who underlined the importance of youth making a better nation and changed the world with his modern thoughts.
Born on Jan 12, 1863, in a Bengali family, Narendra Natha Datta was a precocious child who was what we call nowadays, an all-rounder, excelling in music, studies and athletics. His father Vishwanatha Datta was a well-known attorney. As a youngster, Narendra suffered a crisis of faith and met Sri Ramkrishna in Dakshineshwar near Kolkata. He became his disciple and nursed him when he was unwell, even though his own father had passed away and his family was forced into poverty. Upon Sri Ramkrishna's death, along with other disciples, Narendra took the sannyasa. 
Following this, Narendra went on a long journey across India, where he was shocked to see first-hand the appalling poverty of the masses. To fight the malaise of poverty, he chose to bring in effect a 'machinery' which would come to be known as the Ramkrishna foundation, which included educational, economic and religious betterment.
Vivekananda's speech at World's Parliament of Religion
It was 1893 that would be defined as his annus mirabilis when he addressed the World's Parliament of Religions in Chicago where he presented his Master's message to the world. His welcoming address there earned him a standing ovation. Here's the starting of the speech:
Sisters and Brothers of America,
It fills my heart with joy unspeakable to rise in response to the warm and cordial welcome which you have given us. I thank you in the name of the most ancient order of monks in the world; I thank you in the name of the mother of religions, and I thank you in the name of millions and millions of Hindu people of all classes and sects.
My thanks, also, to some of the speakers on this platform who, referring to the delegates from the Orient, have told you that these men from far-off nations may well claim the honour of bearing to different lands the idea of toleration. I am proud to belong to a religion which has taught the world both tolerance and universal acceptance. Read full speech…
His speech was so well-received that he spent the next three and a half years in USA and London in the UK spreading Sri Ramakrishna's message of Vedanta.
He finally returned to India in 1897 and delivered a series of lectures here as well which sought to increase religious awareness as instil pride in Indian culture.  He also looked to help increase awareness about practical Vedanta. Later that same year, he opened the Ramakrishna Mission, which provided various forms of social service, including running hospitals, schools, colleges, rural developments centres and hostels and also do relief work.
A year later, he acquired land on the Western bank of the Ganga where he built his monastic order that started earlier at Baranagar. Among his disciples were Margaret Noble (Sister Nivedita), Josephine McLeod and Sara Ole Bull. His health deteriorated and he passed away in 1902 but not before changing how the world viewed Hinduism.
This article is auto-generated by Algorithm Source: www.dnaindia.com