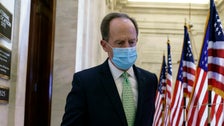 A final agreement on a financial COVID relief package moved significantly closer as a compromise concerning the Federal Reserve was resolved, a Democratic aide told HuffPost.
Sen. Pat Toomey (R-Penn.) finally agreed to drop the broad language in his proposal that would have strictly curbed Federal Reserve emergency powers to launch emergency lending facilities. The Fed used those powers in March to provide loans to small and mid-sized businesses and buy state and local government bonds to aid the economy. The compromise would give the central bank more flexibility to respond to economic calamities.
Compromise language was being finalized late Saturday after a day of back-and-forth arguing between Toomey and Senate Minority Leader Chuck Schumer (D-N.Y.).
This is a developing story. Check back for updates.
This article is auto-generated by Algorithm Source: www.huffpost.com