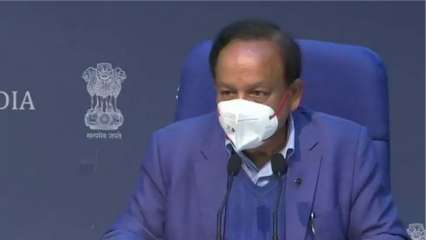 Union Health Minister Harsh Vardhan on Monday (February 15), said that India will start administering vaccines to people above the age of 50 in March, 2021.
"We will be in a situation to administer vaccines to those above 50 years of age in March," he said adding that an expert group on vaccination will discuss how to pay for vaccination of those above 50 years of age. He also said that a formal decision on the funding of the vaccination of this group is yet to be taken. 
Talking about the COVID-19 vaccination in India, which commenced on January 16, Harsh Vardhan said that 80-85% of frontline workers are vaccinated and 20-25 countries will benefit from the vaccine.  
"80-85% frontline workers vaccinated and over 20-25 countries to be availed with vaccines. At least 18-20 vaccines are in preclinical, clinical & advanced stages and are expected in the coming months," he said while addressing the media. 
"In the coming days, 27 crore people who are of above 50 years of age and those under 50 with co-morbidities will be vaccinated," he added. 
The Union Ministry told reporters that in the last 7 days, no new cases of COVID19 have been reported in 188 districts of the country. The ministry further added that 18 states and UTs have not reported any deaths in a span of 24 hours. These are Assam, Rajasthan, Odisha, Andhra Pradesh, Haryana, Jharkhand, Uttarakhand, Manipur, Nagaland, Meghalaya, Sikkim, Andaman and Nicobar Islands, Ladakh, Mizoram, Arunachal Pradesh, Tripura, Daman and Diu, Dadra and Nagar Haveli and Lakshadweep. 
Harsh Vardhan, however, requested people to not be complacent and maintain social distancing. "It is crucial that people continue to follow COVID appropriate behaviour, which I had called a social vaccine, along with real vaccines," he stated. 
While praising India's efforts against the Coronavirus disease, Harsh Vardhan said, "Covid strengthened the country's health potential. We turned a crisis into an opportunity. From 1 lab to 2,500 labs, we improved. Genome sequencing, which is being talked about now, has been in Indian labs since May-June last year." 
This article is auto-generated by Algorithm Source: www.dnaindia.com