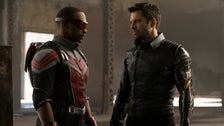 Will the real Captain America please stand up?
Despite Steve Rogers (Chris Evans) passing on his shield to Sam Wilson/Falcon (Anthony Mackie) at the end of 2019's "Avengers: Endgame," Mackie has still been playing it off like we don't know who the real Captain America is.
Uh, it's you, dude. We all know.
While Marvel continues to play coy about Cap, the Super Bowl trailer for the upcoming Disney+ miniseries "The Falcon and the Winter Soldier" did offer one major reveal: the return of Sharon Carter herself, Emily VanCamp.
VanCamp was last seen with a significant role in the Marvel Cinematic Universe in 2016's "Captain America: Civil War." We already knew Sharon would be returning for this series; however, this is the first trailer to feature her in action.
And despite her time away, she's already got a lot on her plate, especially with Falcon and Bucky Barnes/Winter Soldier (Sebastian Stan) constantly butting heads, and returning "Civil War" villain Helmut Zemo (Daniel Bruhl) finally donning his iconic comic book mask.
Good luck, Sharon. With most of the trailer consisting of Sam/Bucky bickering, you're going to need it.
The series drops March 19. Check out the full Super Bowl trailer below:


This article is auto-generated by Algorithm Source: www.huffpost.com