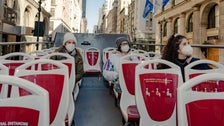 Out of all the industries affected by the COVD-19 pandemic, tourism has been one of the hardest hit. In New York City, many people working in the hospitality, transportation, restaurant and entertainment sectors are using one word: "devastated."
It's hard not to agree with them. New York is one of the most-visited tourist destinations in the world. Tourism is a major contributor to the city and state economies and employs more than 400,000 people within the five boroughs. With the onset of the pandemic, tourism in the city came to an almost complete halt, and the familiar shenanigans ― the crowds, the long lines at museums, the restaurants where it's impossible to get a table ― disappeared with it.
Since the reopening, New York has been slowly coming back to life, as have some elements of the tourism industry. Double-decker buses reappeared on their sightseeing routes. Galleries and museums started opening their doors with new safety protocols and limited capacity. Outdoor dining has proven a big hit for New Yorkers and visitors alike. But most people in the hospitality and tourism industries agree on one thing: It will not be the same until international travel is back and Broadway is open.
A somewhat unexpected remedy came from New Yorkers themselves. Tired of sitting in their apartments, New Yorkers came out to explore their own city in a way they ordinarily never get to experience it ― free of tourists.
NYC & Company, a public-private organization that helps link businesses and the city and serves as a marketing agency for NYC, had to restructure its operation entirely, trying to combine safety and marketing to both New Yorkers and people coming from nearby areas. Its budget has been cut from $40 million to $27 million, and 42% of the staff has been laid off. The main focus of its marketing has been to convince New Yorkers to explore their own city and even stay in its many now empty hotels. Those hotels, meanwhile, have had to get creative, going beyond simple hospitality to find new ways to attract guests. The William Vale hotel in Williamsburg, for example, has opened a rooftop ice skating rink, allowing about 20 people per hour to use it.
"We want New Yorkers to not only participate financially in the recovery but also rebuild New York City's vibrancy by experiencing and exploring the city," Christopher Heywood, the executive vice president of global communications for NYC & Company, said.
The photos below show what the city's tourism looks like now, as it tries to get back to some sense of normalcy.
LEFT: Temperature screening at the entrance to the Museum of Modern Art.
RIGHT: Visitors at the Museum of Modern Art look at displays.
LEFT: Inside a souvenir store on Broadway in downtown Manhattan.
RIGHT: A hat cart on the Manhattan side of the Brooklyn Bridge.
The Egyptian Wing of the Metropolitan Museum of Art.
LEFT: People take photos in Brooklyn's Dumbo neighborhood.
RIGHT: Two people have lunch on a bench in Brooklyn Bridge Park in Dumbo.
Tourists on the Liberty Cruise tour boat, which departs from Pier 36 and makes a circle around the Statue of Liberty.
Exposure is HuffPost's photo blog showcasing extraordinary photo stories from photographers around the world, edited by Christy Havranek, Chris McGonigal and Damon Scheleur.
This article is auto-generated by Algorithm Source: www.huffpost.com