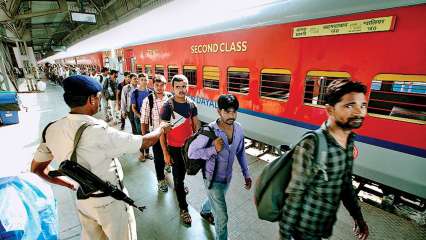 The Indian Railways will soon resume operations of the trains that were suspended because of the COVID-19 pandemic. However, from January 6 onwards, fares of many trains are being increased. Also, reservations of seats are mandatory as this will reduce the congestion of passengers on trains.
Reservation of seats can be done online or can go to the ticket window, which will be opened 30 minutes before the scheduled arrival of the train.
According to the new guidelines of the Indian Railways, the reservation of seats will be mandatory regardless of the distance a passenger wants to cover.
A reservation fee of Rs 15 will be included in all the ticket prices. Railways have also started operations of trains for Jammu and Kashmir, and Udhampur. The passengers en route to Patna, Durg, Varanasi, Ajmer and New Delhi will receive the most benefit once these trains are operational from February 1.
Know the increased fare on some of the trains from Mailani Junction in Uttar Pradesh:
Mailani Junction to Lakhimpur – Present fare – Rs 55; earlier Rs 40, now the fare has reached Rs 55
Mailani Junction to Hargaon – Present fare – Rs 60; earlier Rs 45
Mailani Junction to Sitapur – Present fare – Rs 70; earlier Rs 55
Mailani Junction to Lucknow Junction – Present fare – Rs 90; earlier Rs 75
Mailani Junction to Gorakhpur – Present fare – Rs 190; earlier Rs 175
Train services were suspended on Mar 22, 2020 owing to the Coronavirus pandemic. In the Unlock phases, Special Train services were started by the Railways.
This article is auto-generated by Algorithm Source: www.dnaindia.com