Written by Nicholas Fandos
A Senate still bruised from the most violent attack on the Capitol in two centuries acquitted former President Donald Trump on Saturday in his second impeachment trial, as all but a few Republicans locked arms to reject a case that he incited the Jan. 6 rampage in a last-ditch attempt to cling to power.
Under the watch of National Guard troops still patrolling the historic building, a bipartisan majority voted to find Trump guilty of the House's single charge of incitement of insurrection. They included seven Republicans, more members of a president's party than have ever returned an adverse verdict in an impeachment trial.
But with most of Trump's party coalescing around him, the 57-43 tally fell 10 votes short of the two-thirds majority needed to convict him and to allow the Senate to move to disqualify him from holding future office.
Among the Republicans breaking ranks to convict the man who led their party for four tumultuous years, demanding absolute loyalty, were Sens. Richard Burr of North Carolina, Bill Cassidy of Louisiana, Susan Collins of Maine, Lisa Murkowski of Alaska, Mitt Romney of Utah, Ben Sasse of Nebraska and Patrick Toomey of Pennsylvania.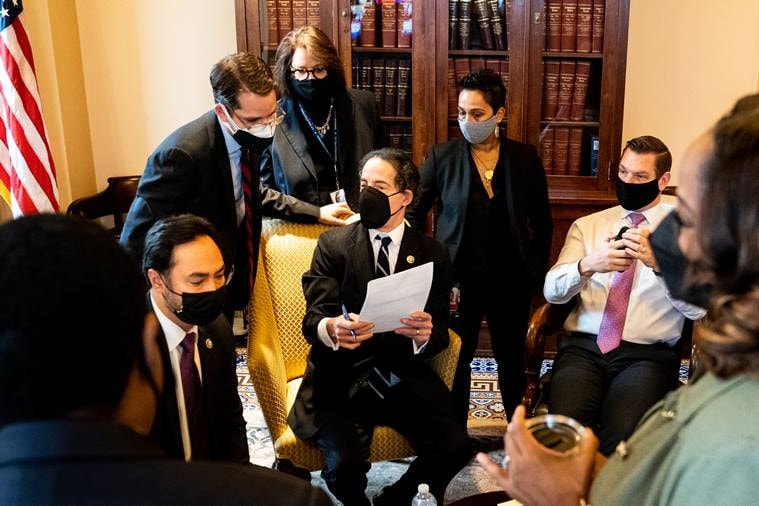 Lead House impeachment manager Rep. Jamie Raskin (D-Md.), center, with other impeachment managers and staff at the U.S. Capitol in Washington on Saturday, Feb. 13, 2021, as they prepare for the start of the fifth day of the second Senate impeachment trial of former President Donald Trump. In an unexpected move, the Senate approved a last-minute call for witnesses in the impeachment trial, putting off a verdict. (Erin Schaff/The New York Times)
The verdict brought an abrupt end to the fourth presidential impeachment trial in U.S. history, and the only one in which the accused had left office before being tried. But it was unlikely to be the final word for Trump, his badly divided party and the sprawling investigations into the assault.
It took only five days to reach a verdict, partly because Democrats and Republicans were united in their desire to avoid a prolonged proceeding and partly because Trump's allies made clear before it even began that they were not prepared to hold him responsible. Most of the jury of senators had themselves witnessed the events that gave rise to the charge, having fled for their own lives as the mob closed in last month while they met to formalize President Joe Biden's victory.
Bruce Castor, left, and Michael van der Veen, center, both lawyers for former President Donald Trump, arrive at the U.S. Capitol in Washington on Saturday, Feb. 13, 2021, ahead of the fifth day of Trump's second Senate impeachment trial.  (Alyssa Schukar/The New York Times)
Party leaders and even the president's most loyal supporters in the Senate did not defend his actions — a monthslong campaign, seeded with election lies, to overturn his decisive loss to Biden that culminated when Trump told thousands of his supporters to "fight like hell" and they did. Instead, in the face of a meticulous case brought by House prosecutors, they found safe harbor in technical arguments that the trial itself was not valid because Trump was no longer in office.
After partly leaders briefly entertained using the process to purge Trump from their ranks, Republicans doubled down on a bet made five years ago: that it was better not to stoke another open confrontation with a man millions of their voters still singularly embrace.
This article is auto-generated by Algorithm Source: indianexpress.com