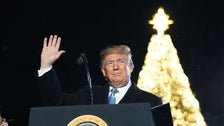 President Donald Trump on Wednesday announced that he's granted yet another spate of pardons to 26 people, including his friend and confidant Roger Stone, former campaign chairman Paul Manafort and Charles Kushner, father of Trump's son-in-law, Jared. Trump also gave sentence commutations to three people. 
The move comes just a day after the president announced his decision to pardon or commute the sentences of 20 people, including three corrupt former Republican congressmen, two subjects of special counsel Robert Mueller's Russia investigation and four Blackwater security guards who were involved in the 2007 killings of Iraqi civilians.
In a Wednesday statement, the White House said Stone and Manafort ― both of whom were indicted in the Mueller probe as part of his investigation into Russian interference in the 2016 election ― had been victims of "perhaps the greatest witch hunt in American history." 
Stone was sentenced in February to 40 months in prison for multiple felonies, including witness tampering, lying to Congress and obstructing the House investigation into possible collusion between the Trump campaign and Russia in 2016.
Trump commuted Stone's sentence in July ― prompting a harsh rebuke from Mueller. 
"Stone was prosecuted and convicted because he committed federal crimes. He remains a convicted felon, and rightly so," the special counsel wrote in an op-ed at the time.
NEW: @realDonaldTrump has issued pardons to former campaign associates Paul Manafort and Roger Stone

In a White House statement, Trump said both Manafort and Stone suffered unfair treatment due to "prosecutorial overreach" and "misconduct" by fmr. Special Counsel Robert Mueller pic.twitter.com/QCG3Ae9VXm

— Face The Nation (@FaceTheNation) December 24, 2020
Manafort was convicted of eight charges in August 2018, including tax and bank fraud. He reached a plea deal a month later with Mueller's team, pleading guilty to two counts ― one of conspiracy against the U.S. and another of conspiracy to obstruct justice. He was later sentenced to a total of 7½ years behind bars. 
In a Wednesday tweet, Manafort expressed his thanks to Trump for granting him a full pardon.
"Words cannot fully convey how grateful we are," he said.
Rep. Adam Schiff (D-Calif.), chair of the House Intelligence Committee, skewered Trump's decision to pardon Manafort, calling the president "lawless until the bitter end."
Mr. President, my family & I humbly thank you for the Presidential Pardon you bestowed on me. Words cannot fully convey how grateful we are.

— Paul Manafort (@PaulManafort) December 24, 2020
As The New York Times noted, Kushner's pardon was among the most anticipated of Trump's presidency.
Kushner, a real estate tycoon, served two years in prison after pleading guilty in 2004 to tax evasion, witness tampering and making illegal campaign donations.
His son Jared is married to Trump's daughter Ivanka Trump and works closely with the president as a senior adviser.
The younger Kushner has been given myriad responsibilities by Trump over the past four years, including brokering peace in the Middle East, building a border wall with Mexico and overseeing his 2020 reelection campaign.
Trump ― who will lose his pardoning power come Jan. 20 ― appears to be on a clemency spree this week. 
On Tuesday, he said he was granting full pardons to his former campaign adviser George Papadopoulos and lawyer Alex van der Zwaan, both of whom pleaded guilty to lying to the FBI in the course of the Mueller investigation.
He also pardoned former Rep. Chris Collins (R-N.Y.), who pleaded guilty last year to securities fraud, and commuted the remaining sentence for Rep. Steve Stockman (R-Texas), who was sentenced to 10 years behind bars in 2018 for multiple felonies, including fraud and money laundering.
Trump additionally pardoned former Rep. Duncan Hunter (R-Calif.), who was sentenced to 11 months in jail for stealing campaign funds to pay for his opulent lifestyle. 
On Wednesday, Trump granted clemency to Hunter's estranged wife, Margaret Hunter, who also pleaded guilty to misappropriating campaign funds.
He also pardoned Jesse Benton, an ally of Sen. Rand Paul (R-Ky.). Benton was convicted of bribing an Iowa state senator in 2011 to compel him to support Paul's father, Ron Paul, who was running for president. 
The White House said in a statement that Benton's pardon had been "supported" by Rand Paul. 
In November, Trump also pardoned his former national security adviser Michael Flynn, who, like Papadopoulos and Van der Zwaan, admitted to lying to the FBI as part of the Mueller probe. 
According to Harvard Law School professor Jack Goldsmith, the vast majority of Trump's pardons and commutations granted prior to Wednesday had been given to petitioners with ties to the president. 
Goldsmith calculated that out of 65 pardons and commutations granted by Trump, 60 were "personal or political connections."
Trump now batting 60/65 (92%) on whether pardons/commutations had personal/political connections up from 40/45 (88%). Experts say although similar #s don't exist for previous POTUSes, these types of pardons/commutations likely only made up a small sliver of ones they granted. https://t.co/1QV5IoUTJs

— Michael S. Schmidt (@nytmike) December 23, 2020
This article is auto-generated by Algorithm Source: www.huffpost.com