Twitch has Confirmed the Data Breach
A hacker reportedly posted a torrent link to 125 GB of data on the 4chan website claiming it to contain Twitch internal data including the site's source code. These files were publicly available to download. After some time Twitch officially confirmed this data breach and started the investigation.
Here's what twitch stated on their website.
We have learned that some data was exposed to the internet due to an error in a Twitch server configuration change that was subsequently accessed by a malicious third party. Our teams are working with urgency to investigate the incident.
As the investigation is ongoing, we are still in the process of understanding the impact in detail. We understand that this situation raises concerns, and we want to address some of those here while our investigation continues.
At this time, we have no indication that login credentials have been exposed. We are continuing to investigate.
Additionally, full credit card numbers are not stored by Twitch, so full credit card numbers were not exposed.
Anonymous Hacker who leaked the data on 4chan.
An anonymous hacker posted the link to the leaked file claiming it to have the source code and some internal data of the Twitch. The Leak is enormous and is more than125 GB. We will not post a link to said 4chan post, since the linked files/torrents are 100% illegal. But here's a screenshot of that post.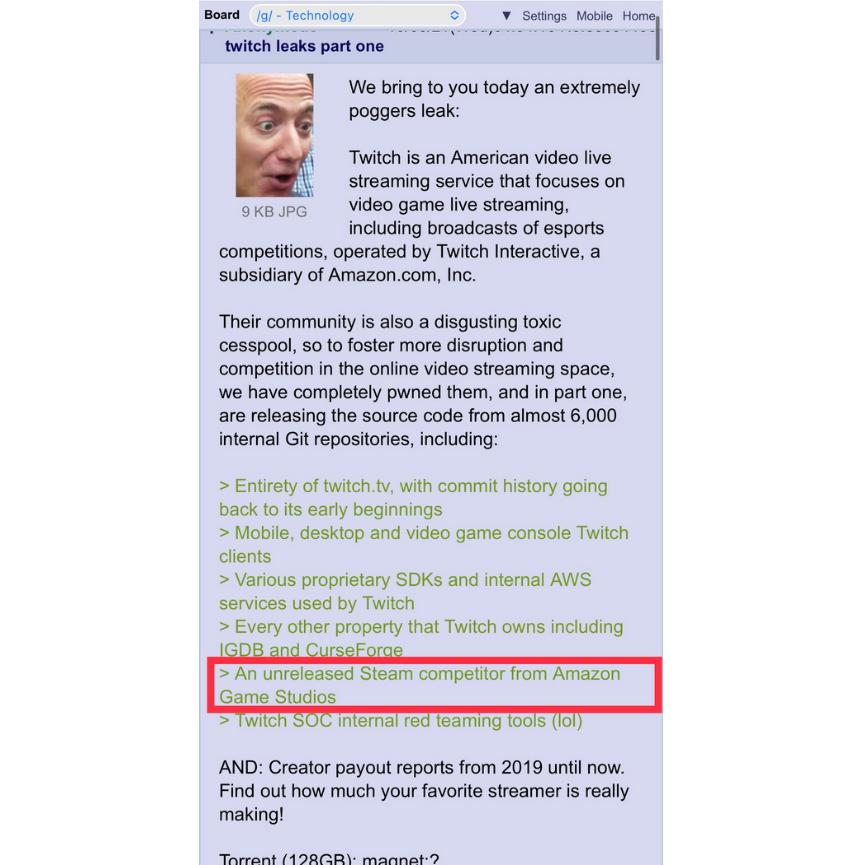 Twitter users take a jibe at Twitch amid its data breach and source code leaks
Twitter users trolled Twitch by congratulating them for becoming open source. After Twitch confirmed the hack via their official Twitter account many Twitter users started trolling Twitch and Amazon. Since the hack leaked the entire twitch source code people started congratulating twitch for being open source