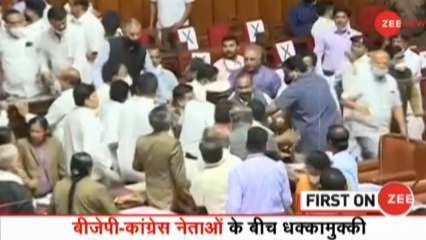 A major scuffle broke out in the Karnataka Legislative Council on Tuesday between the ruling power party and opposition. The Congress party was opposing the chairman and the ruckus increased so much that the Congress legislative council members dragged the deputy chairman from the chair. During the whole incident, there was a fierce scuffle between Congress and BJP MLAs (MLC).
A one-day special session of the Karnataka Legislative Council was called on Tuesday, but even before the session started, there was a brawl between the BJP and Congress members. The BJP had called a session on the direction of the governor to move a no-confidence motion against Pratap Chandra Shetty, chairman of the Legislative Council. BJP has less number in the Legislative Council and in such a situation, with the support of JDS, a plan was made to remove the council chairman of Congress.
Since a no-confidence motion was to be brought against the president of the council, before the session started, the BJP and JDS demanded that the current chair would not sit on the chair of the chairman. Instead, the deputy chairman and MLC Bhoje Gowda of JDS was asked to sit on the Chairman's seat. This angered the Congress members and pulled the deputy chairman out of the chair amidst heavy uproar.
Irked by this, the BJP and JDS members clashed with Congress MLAs. Chairman Pratap Chandra Shetty was prevented from going to the chair by many BJP members including Deputy Chief Minister Ashwath Narayan, after which, the Marshals removed the members using force and brought the chairman to their chair. 
Here's the video
The proceedings of the Legislative Council were suspended indefinitely after the skirmish. This made the BJP members angrier and led to a skirmish between the two sides.
Talking about the forceful removal of the chairman of the legislative council Congress Karnataka MLC Prakash Rathod said "BJP and JDS made the Chairman sit in the Chair illegally when House was not in order. Unfortunate that the BJP is doing such unconstitutional things. Congress asked him to get down from the Chair. We had to evict him as it was an illegal sitting.
"BJP Karnataka MLC Lehar Singh said that this is a shameful day in the council`s history."Few MLCs behaved like goons by forcibly removing Vice-Chairman of Legislative council from the chair and misbehaving with him. We`ve never seen such a shameful day in our council`s history. I`m feeling ashamed about what the public might be thinking about us," said Lehar Singh.
This article is auto-generated by Algorithm Source: www.dnaindia.com