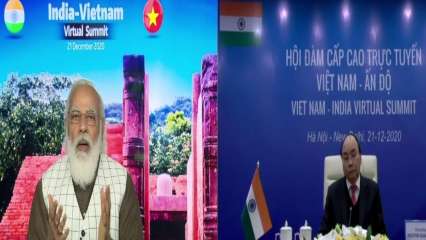 Prime Minister Narendra Modi, on Monday, called Vietnam a key "partner" of India's Indo-Pacific vision and said New Delhi considers its ties with Hanoi in a "long-term and strategic view".
PM Modi, at the "India, Vietnam virtual summit", along with Vietnam's Prime Minister Nguyen Xuan Phuc said, "Vietnam is an important pillar of India's "Act East Policy" and a key partner of India's Indo-Pacific vision. The ambit of our comprehensive strategic partnership has been expanded and close ties are increasing fast."
The Prime Minister highlighted that the "peace, stability and prosperity" in the Indo-Pacific region is "our common" goal and "our partnership can play an important role".
Both the countries have released a joint vision document and plan of action for bilateral engagement between 2021-2023. As many as seven new agreements on defense, scientific research, nuclear energy, petrochemical, and renewable energy have also been signed.
PM Modi lauded Vietnam for its ability to deal with the COVID-19 crisis as the country has been able to keep the number of cases low even as the numbers increased significantly across the globe.
Meanwhile, India has sent aid for central Vietnam that was devasted by the floods for which the Vietnamese Prime Minister thanked his Indian counterpart. PM Phuc said that the virtual summit "underlines the commitment of both countries to further deepening the bilateral relations."
This is the ninth such virtual summit of PM Modi and the first with an ASEAN country. So far, he has had virtual summits with his Australia, the European Union, Sri Lanka, Denmark, Italy, Luxembourg, Uzbekistan, and Bangladesh counterparts.
This article is auto-generated by Algorithm Source: www.dnaindia.com