What are Valorant Pride cards?
Since it's a pride month going on Riot Games released Valorant Pride Cards to celebrate this year's pride month. These are cool-looking fancy valorant players cards that players can equip to show their pride in valorant and also in support of pride month.
Valorant announced, "Show you pride in Valorant ". With Valorant in-game items i.e 7 Pride Player Cards and 2 titles which are available to redeem throughout June.
Note: These cards are free of cost to redeem.
These cards are available for a limited period.
But before you rush into the game to equip these cards you should know you first have to REDEEM these cards from Valorant's website. You will have to log in to the redeem.playvalorant.com website.
Guide: How to redeem Valorant's Pride Players Card?
Go to the redeem.playvalorant.com code redemption page.
Sign in with your riot account.
Enter the codes given in the below section and also it is mentioned in the image above(enter without the hashtag).
Click submit.
You will be shown 'code redeemed successfully'.
Go back to the previous page and repeat the same procedure with the other 6 codes and 2 title codes.
Here are all the Pride Player Cards Code
PRIDE PLAYER CARDS
Pride // Rainbow – Code: [PRISMATIC]
Pride // Cotton Candy – Code: [COTTONCANDY]
Pride // Primary – Code: [PRIMARY]
Pride // Galactic – Code: [GALACTIC]
Pride // Sunset – Code: [SUNSET]
Pride // Twilight – Code: [TWILIGHT]
Pride // SERBET- Code: [SHERBET]
PRIDE TITLES
Proud – Code: [JUBILANT01]
Ally – Code: [JUBILANT02]
DUALITY PLAYER CARD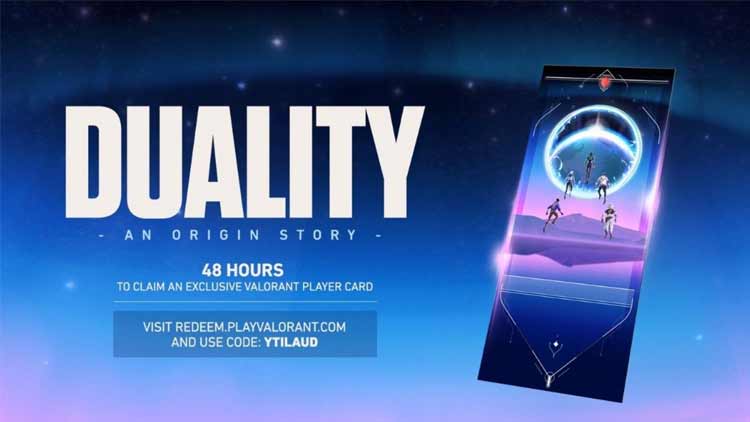 Code: [YTILAUD]
Just log in to redeem.playvalorant.com and grab your cards simply.
Share this information with your Valorant mates so that they don't miss these fancy cards as it is available for this June month only. Looking for a share button? They are top of the article. Stay tuned for more updates.
[simple-author-box]