World's one of the richest man, Bill Gates and his wife's, Melinda Gates divorce news is undoubtedly getting a lot of attention. Amidst all this, there seems some to have taken it an opportunity, with the latest one being Xiaomi UK's insensitive tweet in promoting their new phone, Mi11.
What did the Xiaomi UK social media manager think about doing? To draw inspiration from the news to write the following tweet:
"While breaking up with your billionaire partner may not be the smartest choice, our Mi 11 fully charges in 45 minutes using 55W wired turbo charging, meaning you're always ready to go."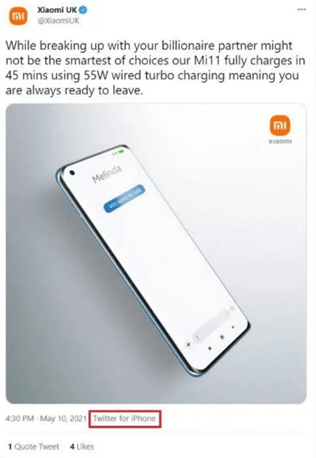 Furthermore, the tweet seems to have been made from an iPhone, which creates a truly awkward situation where a tweet promoting Xiaomi is made from an iPhone. Twitter is quite transparent about showing where the tweets delivered from, perhaps Xiaomi's social media team should be extra careful and cautious.
Later the tweet was deleted by Xiaomi UK's Twitter account, due to the sensitivity of the situation.
[simple-author-box]