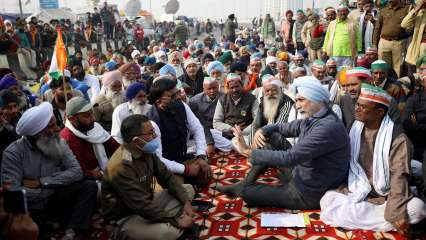 Farmers have started a 'relay' hunger strike on various borders of Delhi adjoining Haryana and Uttar Pradesh to demand repeal of the new agricultural laws of the Center. On Monday, farmer leaders claimed that there is nothing new in the Center's letter regarding the next date for talks. Gurmeet Singh of Krantikari Kisan Union said that there is a possibility of meeting on Tuesday for the next step of the farmer leaders. Farmers' organizations are also trying to get support from farmers of other states like Bihar.
Shiromani Akali Dal demands Parliament session
Pressure has increased from the opposition, while the Shiromani Akali Dal also demanded an immediate session of Parliament to repeal the three new laws. The Left Democratic Front government in Kerala has decided to hold a special assembly session on Wednesday to pass a resolution against the laws. Vivek Agrawal, Joint Secretary, Ministry of Agriculture, has written a letter to the leaders of about 40 farmer organizations on Sunday to discuss their apprehensions on the pre-proposal for amending the law and to set a convenient date for the next phase of talks so that the protest is over as soon as possible.
Nothing new in government's letter
Negotiations were adjourned on December 9 after the fifth round of talks between the farmers and the central government as the farmer unions refused to accept the Centre's proposal to amend the laws and give written assurances to continue the minimum support price. Farmer leader Abhimanyu Kohar said, "There is nothing new in the letter. We have already rejected the government's proposal to amend the new agricultural laws. In its letter, the government has asked us to discuss the proposal and give the date for the next stage of the talks. "
"Do not know our demands? All we want is for the new agricultural laws to be withdrawn," he added.
In the letter, Aggarwal has said, "I humbly request that the representatives of the previously invited agitating farmers' organizations provide the details of the remaining apprehensions and the date for re-negotiation at a convenient."
Meanwhile, Shiromani Akali Dal (SAD) has decided to hold Akhand Paths from January 2 onwards "to commemorate the sacrifice of Sant Ram Singh Singhriwala and 42 others who died during the ongoing farmer agitation" besides "redoubling efforts to reach out to all like-minded political parties to force the BJP led central government to repeal the three agri Acts".
A decision to this effect was taken at a meeting of the party`s core committee which was presided over by SAD President Sukhbir Singh Badal.
This article is auto-generated by Algorithm Source: www.dnaindia.com