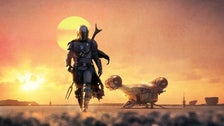 Warning: Spoilers for "The Mandalorian" await!
A fan-favorite character finally made an appearance in Episode 6 of Season 2 of "The Mandalorian," causing "Star Wars" fans to go wild.
His return was foreshadowed via Easter eggs and an ambiguous cameo. But Friday's episode was the first time since 1983 that a certain bounty hunter made a glorious, full-fledged return.
That's right: After 40 years, Boba Fett is back.
He was played by actor Temuera Morrison, who also portrayed the infamous mercenary's father, Jango Fett, in the 2002 film "Star Wars: Episode II — Attack of the Clones."
Boba Fett not only donned the iconic armor that cemented his place in pop culture and arguably inspired the entire aesthetic of "The Mandalorian," he also took down an entire regiment of storm troopers.
Boba Fett debuted in the oft-forgotten 1978 "Star Wars Holiday Special" on TV and later appeared in both 1980's "The Empire Strikes Back" and 1983's "Return of the Jedi."
A galactic freelancer with a decidedly striking helmet, Fett appeared to meet his end after falling into a pit inhabited by a flesh-eating creature called a sarlacc in "Return of the Jedi."
But numerous books, comics and games set in the "Star Wars" universe suggested that he escaped, and the franchise's prequel trilogy further fleshed out his character, revealing that Boba was a clone of his father. 
The jury is still out on how Boba Fett will interact with the protagonists of the Disney+ series, Din Djarin and the famous Grogu, popularly known as Baby Yoda. But "Star Wars" lovers across social media rejoiced.
Fans who didn't think much of the character also chimed in, pointing out that his appearance in the show far surpassed anything he had done in any of the "Star Wars" feature films.
Boba Fett's enduring popularity — despite appearing in less than 10 minutes of the original movies — has been attributed to his striking appearance, mysterious nature and limited dialog. George Lucas, the father of "Star Wars," said that the character was "very much like the man-with-no-name from the Sergio Leone Westerns." 
Calling all HuffPost superfans!
Sign up for membership to become a founding member and help shape HuffPost's next chapter
This article is auto-generated by Algorithm Source: www.huffpost.com