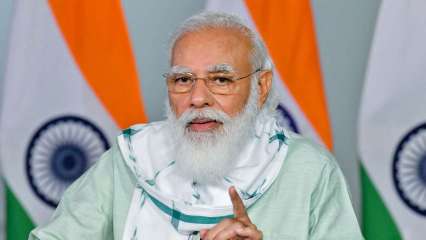 In a bid to allay fears of farmers who have been protesting against the new farm laws, Prime Minister Narendra Modi on Sunday said that the agricultural reforms have opened the doors of new opportunities for farmers and gave them more rights. 
"Recent agri-reforms have opened the doors of new opportunities for farmers. Decades-old demands of farmers which were promised by many political parties have now been met. Parliament has recently passed farm reform laws after rigorous brainstorming. These reforms have not only broken shackles of farmers but have also given new rights and opportunities to them," PM Modi said while addressing the nation in the 71st edition of his monthly radio programme 'Mann Ki Baat'.
"Under this law, it is mandatory to pay farmers within three days of purchasing the produce. If payment is not made, then the farmer can lodge a complaint. Another major provision is that the SDM of the area must address the complaint of the farmer within one month," he said.
The Prime Minister requested the youth especially those studying agriculture to go to nearby villages and make farmers aware about modern farming and recent farm reforms.
"By doing this, you will become a partner in big change that is happening in the country," he said. The Prime Minister's comments came even as hundreds of farmers continue to camp in and around the national capital as part of their agitation against the Centre's agricultural laws.
In his radio broadcast, Modi touched upon various other topics ranging from the idol of goddess Annapurna, stolen in 1913 from Varanasi, being brought back to India from Canada to emphasising that educational institutions should harness the strengths and talents of their alumni.
Remembering Guru Nanak Dev, whose birth anniversary is on Monday, Modi lauded his noble ideals and added that he considered himself to be fortunate for his involvement in various works related to Sikh gurus and gurudwaras.
He also hailed the opening of the Kartarpur Sahib corridor in November last year as historic.
In his remarks, PM Modi talked about a gurudwara in Kutch, which is considered very sacred and special.
The culture of India is gaining popularity all over the world, he noted. "One such effort is by Jonas Masetti, who is based in Brazil and popularises Vedanta as well as the Gita among people there. He uses technology effectively to popularise our culture and ethos," Modi said.
The prime minister also lauded Gaurav Sharma, the MP for Hamilton West, New Zealand, for taking his oath of office in Sanskrit.
Farmers from various states have embarked on 'Dilli Chalo' march to protest against the three farm laws. Reaching out to protesting farmers, Union Home Minister Amit Shah had on Saturday said the Central government was ready to hold talks on their "every problem and demand".
He urged the farmers, who are protesting against three farm laws enacted recently, to shift to Nirankari Samagam Ground marked for their protest by Delhi Police and said the Centre was ready to talk to them earlier than December 3.
The Tikri border has been opened to enable farmers to proceed to the ground marked for their protest against the three laws — the Farmers Produce Trade and Commerce (Promotion and Facilitation) Act, 2020, The Farmers (Empowerment and Protection) Agreement on Price Assurance and Farm Service Act, 2020, and The Essential Commodities (Amendment) Act, 2020.
(With agency inputs)
This article is auto-generated by Algorithm Source: www.dnaindia.com