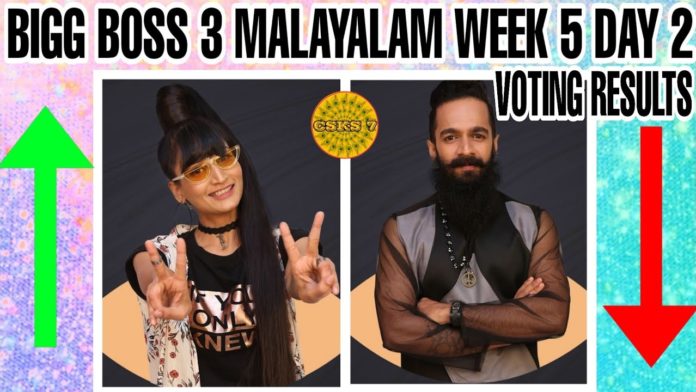 Bigg Boss Malayalam Season 3 is midway through an entertaining week filled with intense drama, fights. Out of the seven contestants nominated for elimination, few of them impressed in the 'role play task'. However, one contestant will bid goodbye to the Bigg Boss house as a result of the eviction.
A fiery nominations task and a touch of bonhomie set the tone for Bigg Boss Malayalam 3 this week. However, an enthralling 'role play' task was announced by Bigg Boss after the success of last week's college tasks success. The contestants are dressed as one famous character from the Malayalam industry.
After successive weeks of nomination, Manikuttan and Soorya get a break. A very smart move by Manikuttan came through Soorya's proposal rejection. Manikuttan understood Adoney and Angel's failed love track attempt and did not want to fall into the trap.
The fun and drama surrounding this week's character task performances are impacting the voting results by considerable means. Danger clouds Rithu Manthra and Remya Panicker as the duo are stuck in the bottom two of the voting results and Dimple Bhal's safety is imminent from her screen presence.
Bigg Boss Malayalam 3 Voting Results Week 5 Eviction – 17th March 2021
Dimple Bhal – 23% vote share (69,117 votes)
Sajna and Firoz – 21% vote share (63,543 votes)
Remya Panicker – 7% vote share (21,079 votes)
Sai Vishnu – 12% vote share (36,885 votes)
Kidilam Firoz – 14% vote share (42,741 votes)
Rithu Manthra – 10% vote share (30,243 votes)
Majiziya Bhanu – 13% vote share (39,563 votes)
Bigg Boss 3 Malayalam Nominated Contestants Week 5
Dimple Bhal
Majiziya Bhanu
Remya Panicker
Rithu Manthra
Sajna and Firoz
Sai Vishnu
Kidilam Firoz
Bigg Boss 3 Malayalam Eviction Week 5 Voting Trends and Analysis
The 'Kaliyattam' task and nomination task was the major highlight of this week. All the contestants were eligible for nominations this week. However, the quest for safety clouds the performances in the 'character' task.
A smart Firoz tries to pull down Sai Vishnu by triggering his short-tempered nature and ends up in a fight. However, Sajna/Firoz and Sai Vishnu are considered safe.
Ramzan never fails to impress the audience of Bigg Boss Malayalam 3 with his cute mischievous nature and stellar charisma.
Rithu's desperate measures to save herself need to sprout before the end of the task as she lurks in the bottom two.
Dimple Bhal's impressive dance performance put her on top of the popularity chart for this week's performers.
Sajna and Firoz's nomination this week fails to deter the couple's tenure in the house as they surge to the top two.
Dimple Bhal continues to impress but she faces tough competition from Kidilam Firoz and Sajna/Firoz for the top position. Her performance as Revathi from Kilukkam.
Remya Panicker is an obvious choice for eviction if the current voting trends continue.
Manikuttan impressed even the members of his opposition like Ramzan, Adoney and Sai Vishnu with his character of 'Meeshamadhavan'.
Captain Noby was safe from nominations this week. 
Who Will Be Safe From Eviction This Week?
According to reports, Dimple Bhal and Sajna/Firoz are likely to be safe this week.
Who Will Be in Danger of Eviction This Week?
According to reports, Remya Panicker or Rithu Manthra is likely to be evicted this week.
Bigg Boss Malayalam 3 Evicted Contestants
Lakshmi Jayan (Week 2)
Michelle Ann (Week 3)
Angel Thomas (Week 4)
Vote to save your favourite contestant
This article is auto-generated by Algorithm Source: thenewscrunch.com