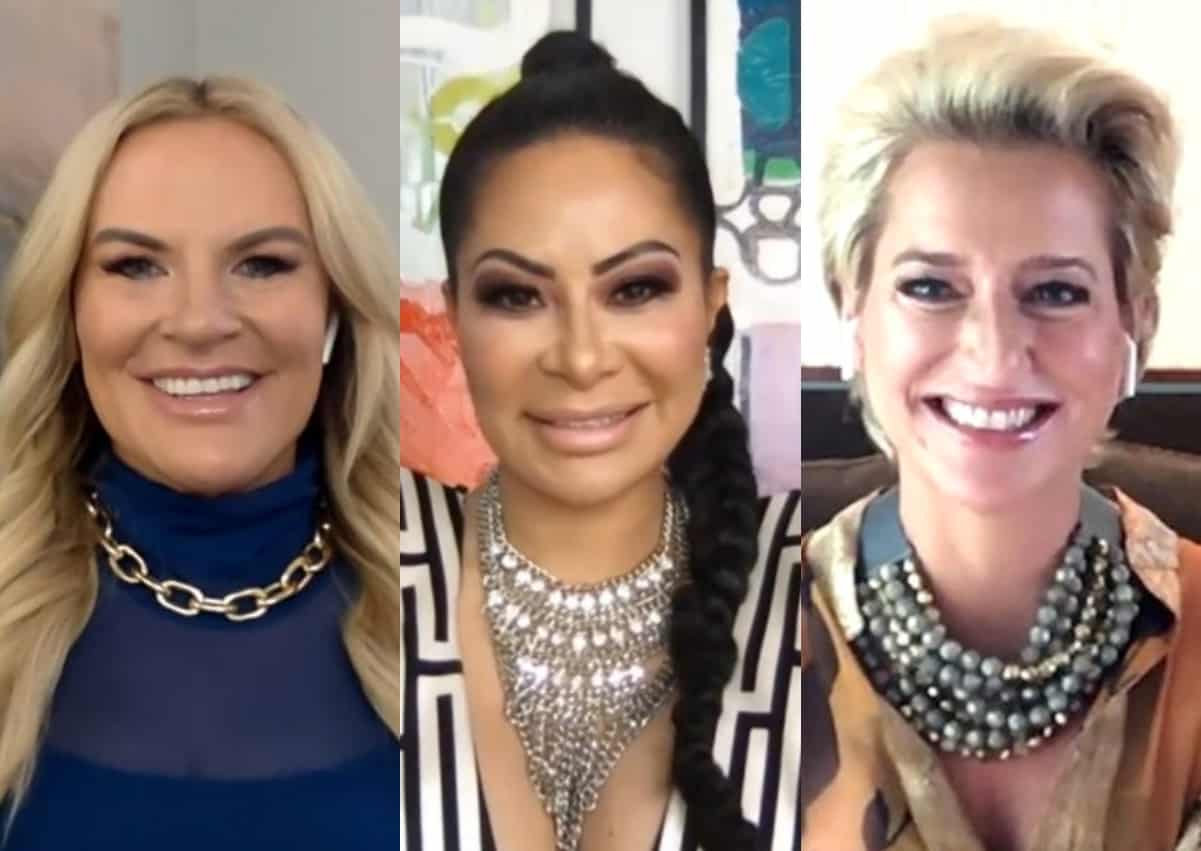 Heather Gay is shocked by Jen Shah's arrest and Dorinda Medley insinuates that Jen was too fame-hungry.
The Real Housewives of Salt Lake City cast members have remained silent since Jen was arrested on Tuesday and charged with conspiracy to commit wire fraud and money laundering after allegedly running a nationwide telemarketing scheme that defrauded hundreds of vulnerable victims over a nine-year period. Then, on April 1, Heather finally addressed the situation in a private DM.
"I AM SHOOKETH," she professed.
A photo of Heather's reaction was shared on Twitter by popular Bravo superfan, Evan Ross Katz, who Heather follows on Instagram. It's unclear if the Beauty Lab owner gave him permission to share her private message, but he did anyway.
It's understandable that Heather is likely in a state of shock as she and Jen had a rather close friendship throughout the majority of the first season. Furthermore, the cast was reportedly surrounded by federal agents in search of Jen just moments after she was tipped-off and left the scene, according to Variety.
Meanwhile, former Real Housewives of New York City star Dorinda also claims to be shocked by the news.
"Can you imagine that that happened?" she said after joining Faces By Bravo's Instagram Live session. "Who would have thunk it, right? I was actually very disappointed when I heard those tapes. I think it's very sad and sort of salacious, right?"
Dorinda then asked the million-dollar question that fans have been asking, "Why would she be on the show?"
She then recalled what she was told as she was preparing to sign her RHONY contract with Bravo.
"I remember right before I started, and they put you through all the interviews and stuff, one of the higher-ups said, 'Now listen, I just want you to know before you sign on that if you have any skeletons in your closet, they will come out' the Make It Nice author revealed. "I'm like, 'Well, let them dance out because of course I have skeletons like everyone else, but I'm okay with it.' The one thing about reality TV is it always comes out."
She added, "Narcissism is dangerous. I always say that fame is the worst mistress ever if you allow it to be. It's like any mistress that's an aphrodisiac, it will take you down the rabbit's hole. It's the ultimate drug and probably the ability to obtain fame outweighed the fear of getting caught [for Jen]."
Finally, Dorinda offered a piece of advice to any current or future Housewives out there who may be participating in illegal activity.
"I think the one mistake that people make about reality TV and stuff is that you can control it. You can't," she declared. "Once you're out there, you have to just – it's a very tough beast. And you have to, sort of, not fight it, but tame it a little bit. I don't know, I was surprised."
Photos Credit: Bravo


This article is auto-generated by Algorithm Source: realityblurb.com